Former W&M President to lead 2011 Homecoming Parade
The couple who led William & Mary into the 21st century will lead this year's Homecoming Parade as its 2011 Grand Marshals. Timothy J. Sullivan '66 and Anne Klare Sullivan '66, M.Ed. '68, M.A. '73, Ed.D. '86 were selected to lead the annual Homecoming Parade by the Alumni Association's Board of Directors in March.
"We were delighted," Tim says. "It's as much fun as it is an honor."
The College of William & Mary's annual Homecoming parade will move to Friday, Oct. 21 at 4:30 p.m. This year's parade route will begin in front of William & Mary Hall, wind its way through campus and along Richmond Road until ending at the intramural fields.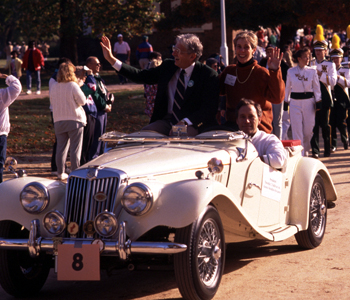 The Sullivans will ride along with grandchildren of the late Mark McCormack '51, L.H.D. '97, the pioneering sports agent and lawyer. The parade, Tim says, "is visible evidence of great Tribe spirit. It's a spirit that stretches back from students to [the College's] most venerable alumni." The Sullivans rode in 14 parades while Tim was president.
Tim, affectionately known as "Timmy J." by students, was the 25th president of the College from 1992-2005. Prior to serving in the Brafferton, he served in the U.S. Army Signal Corps, with the office of Governor Charles Robb, and as a professor and dean at the William & Mary Law School. Anne is a clinical psychologist and inaugurated the President's Collection of Faculty and Student Art while William & Mary's first lady.
After overseeing the College's 300th anniversary celebration in 1993, Sullivan spent his presidency strengthening the College's commitment to undergraduate education and scholarship. He was an outspoken advocate of the state's role in higher education and led successful efforts to increase William & Mary's control over its own destiny. Under his guidance, the College's endowment rose from less than $150 million to more than $400 million. After departing campus, he was president and CEO of the Mariner's Museum in Newport News until 2009.
At the time of his retirement, Rector Susan Aheron Magill '72 said "Tim Sullivan has demonstrated that nothing short of the best is acceptable."
For now, though, the Sullivans are looking forward to, in Tim's words, "a great renewal of friendships that are very important to us." 
Founded in 1842, the William & Mary Alumni Association is a separately incorporated nonprofit organization that encourages alumni of the College of William & Mary to remain active partners in the life of the university. The Alumni Association's programs nurture friendships, inspire pride and build an appreciation among alumni for William & Mary's long tradition of achievement. For more information about the Alumni Association, visit www.wmalumni.com.