Former Tribe golfer learning about life on the links
It's common knowledge that former William & Mary athletes dot the rosters of professional sports teams in the United States and around the globe, and compete in individual pro sports such as men's and women's tennis and men's and women's track.
What might not be so well known is that the Tribe boasts a professional golfer as well.
Erika Malik '08 is in her first season on the Ladies Professional Golf Association's Futures Tour. Known as the "Road to the LPGA," more than 500 alumnae have advanced from the Futures Tour to the LPGA since 1999, and it is considered the most established women's developmental tour in the world.

Malik, who was known as Erika Oldenkamp during a career at William & Mary in which she was twice named second-team All-Colonial Athletic Association, is in nearby Richmond this week competing in the $100,000 Eagle Classic, a 54-hole event at Richmond Country Club. Championship play begins on Friday.

Malik won't be hard to spot. She still sports William & Mary head covers on her clubs – and she's attached a "One Tribe, One Family" Bracelet on her bag. That's the bracelet designed by student and track star Brandon Heroux and sold by the Student Athletic Advisory Council to raise money for the Lt. Todd Weaver '08 Memorial Fund.


"I'd wear the bracelet, but it's so large that it gets in the way of my grip," Malik said the other day. "So I put it on my bag.

"When I was (playing) in Florida, people definitely noticed my head covers, and would say something about me being from W&M. I guess there were some alums who had retired there."

Malik had started the fast track to success at Northern Trust bank back in her hometown of Chicago when the urge to try professional golf overwhelmed her in 2009.

"I met some really good people at Northern Trust, and one became my mentor," she said. "He was the kind of guy who helped me realize my dreams and passions after I admitted to him that I really wished I'd pursued professional golf. I just wasn't enjoying sitting behind a desk, even though it was a great opportunity for my career. I couldn't see how what I was doing would be any different 10 years from now.

"We talked about how I could achieve my goal, and we started creating a business plan."

In 2009, she practiced before and after work to lower her handicap. She moved to Florida in 2010 and competed primarily on the Suncoast Tour before finishing 43rd out of 300 at the Futures Tour Qualifying School in November. That gave her entry into all Future Tour events.

The Futures season began in March. Malik has made the cut five times in 12 events, and earned about $2,700 in addition to a wealth of knowledge about what it takes to survive the journey from nowhere to the LPGA show.

Among her Futures highlights was making birdie on the final hole to make the cut in the season-opening Florida's Natural Charity Classic in Winter Haven. That started a streak of three tournaments in which she made the cut.

Her disappointments: Making birdie on the final hole of a recent tournament in Connecticut – but missing the cut by one stroke.

"Make it by one, miss it by one -- I've had it both ways," she said, chuckling.

One variable that remains constant for the fledgling pro is money. Expenses on the Futures Tour total about $20-30,000. Malik is living off her earnings, what's left of her salary from Northern Trust, her husband Chuck's salary, a fund-raiser she staged for herself, and a program in which she has sold "shares" in herself to investors.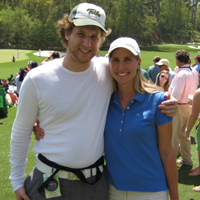 It's an endless struggle, and one of golf's relentless Catch-22s. As Malik put it, "You have to make your way to have money, but you have to have money to make your way. I know there's a business behind what I'm doing, but I'm trying to focus on golf."

Even on the Futures Tour, some competitors enjoy corporate sponsorship and equipment deals in which they are provided clubs, balls, bags and clothing for free. Malik has no such luxury.

"At this point in my career, before I've accomplished anything, I need to find smaller companies who believe in me and in my ability to get to the next level," she said. "This has been a huge learning experience so far, and it's been stressful.

"I know if I can get to the LPGA, I can continue onward. It's a matter of my having the funding and having that opportunity to go forward."

She's doing all of the right things. She has created a website -- http://erikamalik.com -- in which she blogs about her experience, and where potential contributors can go to learn more about her and become "affiliates."

"It's like a whirlwind; your emotions go from low to high," she said. "I'm grateful to be on the path I'm on. It'll be a great story one day when I have kids; hopefully, it won't just be a story. Hopefully, I'll still be living it."