Executive Ed.D. student uses education to open doors
For retired Army Col. Rosaline Cardarelli, education is the key to opening doors.
"[My mother] always pushed, you know, 'Get an education,'" Cardarelli said, describing her as a Japanese immigrant with limited exposure to American education but "phenomenal" wisdom.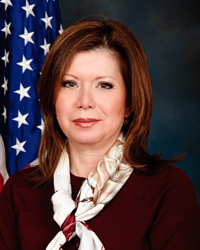 Now, after serving in the military for 34 years and earning an undergraduate degree and two master's degrees, Cardarelli is pursuing her doctorate degree as part of the first cohort of the School of Education's Executive Ed.D. program in K-12 Administration.
"Ultimately, [I want to] be an administrator within education to allow to access to education so other people can benefit from education to get the jobs that they need to be able to be productive and to sit at the table and make good decisions for their families or their communities," Cardarelli said, "and the way that I can do that is through the College of William & Mary." 
Cardarelli joined the military after high school to see the world.
"It wasn't considered the best field for a woman to be in, but I [wanted] to explore the world, so I joined the Army," Cardarelli said. "I went overseas and I made a little bit of money and I made some friends, and I said, 'I kind of like this.'"
But, as an enlisted soldier, Cardarelli said she "peaked very early because I couldn't do much more without a solid education."
So, Carderelli pursued her undergraduate degree at Fitchburg State College in Massachusetts. She became the first female cadet battalion commander for the 13 colleges under the ROTC program at Worcester Polytechnic Institute.
By going to school at night while she was on active duty, she went on to earn a master's degree in education from Boston University, and, through the Army, a graduate degree in health care administration from Baylor University. She also completed a doctoral program that later lost its accreditation. Through the military, she also attended the Combined Arms and Services Staff School, the Army Command and General Staff College, and the Army Inspector General School. She also completed a number of courses relating to health care administration.
Through her career in the military, she commanded the largest training battalion in the military, launched the first "Wounded Warrior" program as the brigade commander at Walter Reed Army Medical Center, and served as the executive officer in the Department of the Army Inspector General.
What Cardarelli describes as a period of "a lot of praying and a lot of soul-searching" after her mother passed away led her to retire from the military and ultimately continue her pursuit of education at the William & Mary.  
"When I saw the program at William & Mary, I said, 'This is exactly what I want to do,'" Cardarelli said. "One of my graduate degrees, the one from Boston University, is a master's in education and though I'm not an educator or an academic per se, it's something that I feel, having been in the military, you are a teacher. You are a trainer. You are a mentor, and you have responsibility for, you know, large systems and that was something I did in the military so I figured I could do that as a civilian as well."
Cardarelli felt especially attached to William & Mary because she had lived in Southern Virginia. Her daughter had also wanted to go to William & Mary after being accepted, but was steered toward West Point.
Additionally, William & Mary's Washington Office had approached her last year about internships at the Near East South Asia Center of Strategic Studies (NESA) at the National Defense University, where she is currently the chief of outreach. Since then, several William & Mary students have interned at the NESA.
When she discovered the new program at the W&M School of Education, she felt that "this is all coming together."
"The executive education program that got me very excited because I said 'Oh my gosh I didn't think I'd go back to school.' But this program was designed in a way that a professional person could complete it," Cardarelli said. "As I entered into the first couple of courses, I realized how excited I was to be stimulated again, to be challenged again, which I had forgotten."
William & Mary created the Executive Ed.D. program as a part of the Carnegie Project on the Education Doctorate. It was one of 30 American universities that worked with the Carnegie Foundation "to examine the way that we prepare students in the doctoral program and what we prepare them to do after the doctoral program," according to Steven Staples, the executive director of the Executive Ed.D. program.
"Our executive Ed.D. was designed around some of the underlying concepts and theories derived from our association with CPED," Staples said. "Each university had to determine how best to implement the Carnegie beliefs in their own institution and it looks different in every institution. But the underlying ideas are similar."
William & Mary's program was designed so that students could complete the program within two-and-half years while being full-time professionals. The cohort meets for two intensive three-week summer sessions and on weekends during the fall and spring.
"There's a concentrated amount of time in class, with time in between for outside - either online or distance coursework - or completing your own assignments either independently or in groups," Staples said. "There's nothing in it that's structured like the traditional 'We meet every Wednesday from 4:30 to 7' because we recognize that sometimes that's more challenging for working people."
Weekend sessions alternate between being held in Washington, D.C. and in Williamsburg.
"When I looked at the program, I was just amazed because it was designed perfectly for someone like myself," Cardarelli said. "I can invest three weeks in the summer and I can invest one weekend a month and now, there's a lot of at-home requirements but that's no different than a distance-learning program, so I just have to buckle down and tonight I don't go on the Dandy Boat River Trip with our participants that are in our program that are very senior, including a prince. I don't get to do that because tonight I've got to rework a paper."
The program is also unique for its coursework, which was designed to incorporate the Carnegie program's underlying goals.
"We specifically designed the research courses to be very non-traditional," Staples said. "The typical research courses of a doctoral program are, you take quantitative statistics. You take qualitative analysis. We spent some time in our planning trying to better align the coursework that  student took in research to the research skills they would need on the job after they earn the doctorate."
The program was also designed with the same coursework for the entire cohort. Additionally, the courses are taught by full-time faculty.  
"As I entered into the first couple of courses, I realized how excited I was to be stimulated again, to be challenged again, which I had forgotten, and … the professors I met, they were just of the highest quality and they just made you think," Cardarelli said. "What's kind of interesting is [the professors are] my age, so, you know, I could relate to them, and I thought that these would be good mentors for me because everybody needs a mentor."
The first cohort has 13 students that are diverse in terms of background, geography, and perspective.
"We have counselors. We have administrators. We have teachers. So, those varying perspectives really bring a richness to the coursework that I think is a compliment to the first cohort, and we've really enjoyed engaging with them," Staples said. "Rosaline is a great example of that because she's coming from a non-traditional background for a doctorate in education."
Cardarelli's path to education has been a unique journey that has been steered by education and guided by her commitment to service.
"I've always been a public servant and a civil servant of sorts, so I think I'm being drawn to serve in an academic or educational capacity," Cardarelli said. "I think this world at this time really needs that."