Cornel West to speak at W&M's Martin Luther King, Jr. commemoration
Update: No more general admission tickets are available. Information on overflow seating will be available soon.
Speaker, author and activist Cornel West will serve as the keynote speaker at William & Mary's Martin Luther King, Jr. Commemoration Program at 7 p.m. on Jan. 19, 2012, in the Sadler Center's Commonwealth Auditorium.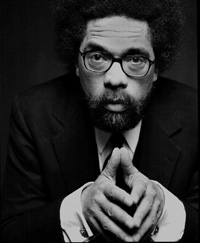 The event, which is sponsored by the Center for Student Diversity and The Forum, is free and open to the public; however tickets are required. Tickets will be distributed on a first-come, first-served basis.
Students may get tickets at the Center for Student Diversity weekdays between 9 a.m. and 4:30 p.m.
Faculty, staff and community members may request tickets via this online form.
Currently the Class of 1943 University Professor at Princeton University, West received his undergraduate degree from Harvard and his master's and doctorate from Princeton. He has taught at Union Theological Seminary, Harvard, Yale and the University of Paris. West has appeared in more than 25 films and on numerous television and news shows. He also appears weekly on Tavis Smiley's NPI radio program, and he has recorded three spoken word albums.
West is also prolific writer and has authored 19 books and edited 13 more. Some of his most well-known works include "Race Matters," "Democracy Matters" and his memoir "Brother West: Living and Loving Out Loud."
For more information about the event, contact Director of the Center for Student Diversity Vernon Hurte at vjhurt@wm.edu.