CFGE work influences philosophy, practice in Japan
"Friendship building on behalf of our respective children is the single best approach we have to creating world peace." It is this mantra, espoused by Executive Director Tracy L. Cross, that has driven the College of William & Mary's Center for Gifted Education (CFGE) in its endeavors internationally.
In relationship to the CFGE's work with Japan, that friendship building may eventually lead to a philosophical shift in the way gifted education is viewed in the country.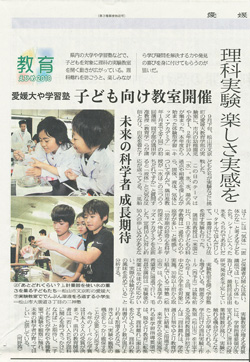 Traditionally, gifted education has not been practiced in Japan because of that culture's emphasis on an egalitarian society. In December 2009, the Ministry of Education of Japan made a historic decision to send teachers abroad to study gifted education within the context of science education. Twenty Japanese science teachers came to William & Mary for a week-long program in which they learned about curriculum and instruction for scientifically talented students. They attended workshops led by CFGE faculty and staff then visited schools that implement the CFGE science curriculum.
To continue this cooperation between the United States and Japan relative to science education for talented students, Kimberley Chandler, curriculum director at the CFGE, traveled to Tokyo in August 2011 to present a paper entitled "Science Education for the Gifted:  Innovation for Meeting the Diverse Needs of Students" at the annual conference of the Japanese Society of Science Educators. Like the visit by the Japanese teachers in 2009, this presentation is part of the groundwork being laid by Manabu Sumida of Ehime University to incorporate the theoretical and pedagogical tenets of gifted education within science education for young children in Japan. Although Japanese students perform well on international measures of science achievement, attitudinal surveys reveal that they do not view science favorably. Sumida has hypothesized that the nature of the science curriculum in Japan (lecture format even in the early grades) results in this phenomenon. He has introduced the CFGE's science curriculum units as an example of how to present science in an engaging and challenging manner for elementary students.
Sumida has adapted the Project Clarion science units that were developed at the CFGE to meet the needs of young scientifically talented students in Japan. In the spring of 2012, he will run the second session of a new Saturday program (modeled after the CFGE's Saturday Enrichment Program), in which he and other science educators use the CFGE curriculum units to spot and develop scientific talent in their students. 
Sumida's work has heightened the center's excitement over improved gifted education in Japan.
"This cooperation is exciting because it is indicative of the possible scope that our work here at William & Mary has to influence educational practice globally," Chandler said.