Bend it like Wade Barrett '98
As the William and Mary Tribe, we support each other, delighting in our victories and commiserating in our losses. Wade Barrett '98 truly embodies the Tribe spirit; he is a team player, both on and off the field. A prominent soccer player at the College during his undergraduate career, Barrett was drafted in the 1998 Major League Soccer (MLS) draft to the San Jose Earthquakes, a team that in 2006 relocated to Texas and became the Houston Dynamo. From rookie to MLS champ and then playing in Europe, and, finally, assistant coach of the Houston Dynamo, Barrett is constantly climbing the ranks while supporting his team every step of the way.

Barrett, a native of Virginia Beach, Va., played soccer at William and Mary from 1994 to 1997. He fondly remembers the first game of his freshman season.

"The first game of my College career, we played a home game against Colgate, which was actually my dad's alma mater, and we won that first home game 2-0," says Barrett. "The experience of coming in as a freshman and being able to step in with an incredible group of guys and with a coaching staff that I have a lot of respect for was just a very exciting time for me.

"After that first game, to be honest, my strongest memories probably have to do with other guys that I played with. I think that their highlights probably turned into my highlights."

When Barrett was drafted in January of his senior year at the College, he faced a tough predicament.

"I was in the second semester of my senior year when the draft happened, and when that opportunity came up I pretty much had to leave school right away," says Barrett. "I followed [my teammates'] example [of doing independent study] so, fortunately, I was still able to get my degree on time."

The transition from college to Major League Soccer was difficult for Barrett, but his support system made it easier.

"There are very good players at the Major League Soccer level, good domestic and international players," says Barrett. "I benefited from my experience at William and Mary on the soccer team, I had a coach that supported me and believed in me when I first joined Major League Soccer, and I was given help along the way."

After playing for the San Jose Earthquakes for the 1998 to 2002 seasons and winning the MLS championship in 2001, Barrett decided to take a leap across the pond and play for European club teams. From 2003-04, Barrett played soccer for Aarhus (Denmark) and Fredrikstad (Norway). As Barrett emphasized, there is much more to playing abroad than what happens on the field.

"You can sometimes handle the soccer part of it, but you have to be open to the experience of living abroad and experiencing a new culture and learning a new language," says Barrett. "A lot of the younger players that do that don't appreciate that it is difficult and, also, you have to be open to it and have the right mindset. You have to learn away from the soccer field also.

"The progression for me was great, because it gave me the opportunity to grow up a little bit," says Barrett. "When I finally went over there in 2003 I was able to really soak in the entire experience, not just the soccer aspect of it but the opportunity to live in a different country and experience a different culture."

Upon his return to the U.S. for the 2005 season, Barrett was appointed team captain of the San Jose Earthquakes. When the team relocated to Houston during the offseason and became the Houston Dynamo, Barrett and his team stuck together, making them stronger both on and off the field.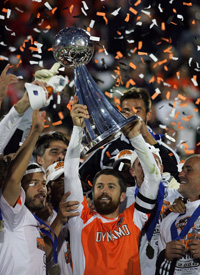 "The move was difficult for the guys for a lot of reasons, but I do think that it probably brought the players a little bit closer together, going through the shared experience of having to, as a team, having to move their families to a new place," he says. "It brought us a little bit closer together off the field, and I'd like to think that that had some sort of effect on how we operated as a team on the field. I think that definitely helped us towards the championship."

Under Barrett's leadership as captain, the Dynamo won the 2006 and 2007 MLS championships. Barrett continued as Houston Dynamo captain until his retirement in early 2010.

"This was the right time for me to retire. I had a wonderful career as a player, but I was really ready to move on to the next thing," he says. "Fortunately, the coach, Dominic Kinnear, gave me the opportunity to join the coaching staff."

Though Barrett serves as the Dynamo's assistant coach, he has strong aspirations.

"I still have athletic ambition, but it has shifted a little bit from the soccer field to running, and I am interested in competing in distance events," says Barrett. "Right now I'm training for a couple different ultra-marathons and, depending on how that goes in the next couple years, I might transition into some Iron Man competitions."

In his athletic career thus far, Barrett has made it to the MLS All-Star team, the MLS Best XI, and played for the U.S. national team on two occasions. Barrett's most valued honors, however, are the ones he earned with his team.

"The most important things to me are the team awards," he says. "We did win the MLS championship in 2001, and then I won two more championships with the Dynamo in 2006 and 2007. Those were by far the most important awards to me."

An exemplary team player and forever a member of the Tribe, Barrett strongly supports the Houston Dynamo and fondly remembers his years at the College. He now serves as a mentor and leader to rookies who are in the position he once filled.