Award-winning writer, composer Rinde Eckert to perform at W&M
William & Mary artist-in-residence and award-winning writer, composer, performer and director Rinde Eckert will perform "An Idiot Divine" at the College on March 30.
The solo performance, which consists of the two one-act, multimedia plays "Dry Land Divine" and "Idiot Variations," will take place at 8 p.m. in the Sadler Center's Commonwealth Auditorium. It is free and open to the public.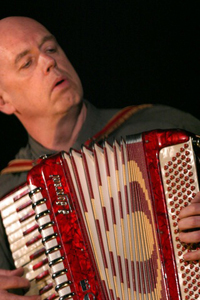 As the Helene Stein Vogt Artist-in-Residence with the College of William and Mary's Department of Music, Eckert has been working with music and theatre students as well as William & Mary's Performance Art Ensemble.
"Rinde Eckert is a truly unique and important performing artist," said Greg Bowers, assistant professor of music theory and composition. "For decades, his work has blazed a pathway towards a performance style that is completely interdisciplinary, combining his expertise in music, theater, and dance. The College is fortunate to have one of the founders of modern multimedia both in the classroom and in performance.  'An Idiot Divine' is the work that landed Rinde on the international stage following its celebrated premiere at Carnegie Hall."
According to Eckert, the piece reflects his efforts to combine art -- including vocals, theatre, dance and video -- in unique ways.
"I have been trying to build a theatrical logic that is fiercely interdisciplinary - a theatre that accepts various modalities of meaning and feeling without subordinating one to the other," Eckert wrote. "My work occurs on stage with lights and sound, and usually music, and is deeply concerned with language. There is such a thing as soul and good theatre elevates it."
Eckert began his career in the 1980s, writing librettos for composer Paul Dresher and composing dance scores for choreographers Sarah Shelton Mann and Margaret Jenkins. In the early 1990s, he began composing and performing his own music and theatre pieces. He has garnered many accolades for his work, including Drama Desk nominations for best play and best director, a Lucille Lortel Award for "Unique Theatrical Experience," the Marc Blitzstein Award from the American Academy of Arts and Letters, the Obie Award, the Alpert Award in the Arts, and a Pulitzer Prize nomination.
Three of Eckert's plays have had successful off-Broadway runs, and "An Idiot Divine" has been performed at Zankel Hall in New York City. Eckert's theatre work has been produced by numerous companies, including the Theatre for a New Audience, the New York Theatre Workshop, The Foundry Theatre and Culture Project in New York, and the American Repertory Theatre, and his plays have been directed by the likes of Tony Taccone, Robert Woodruff, David Schweizer and Ellen McLaughlin. Additionally, Eckert has directed his own plays and others' for The Asia Society, Juggernaut Theater, Opera Piccola and the Paul Dresher Ensemble.
Eckert has also had much success in the music productions, writing and directing for performers such as percussionist Steven Schick, the ensemble Zeitgeist, conductor Gil Rose with the Boston Modern Orchestra Project and Steven Mackey, whose oratorio "Dream House," received three Grammy nominations. Mackey and Eckert are also members of BIG FARM, a progressive-rock band.
Eckert taught a creativity course at Princeton University in 2007 and served as the 2008 Granada Artist-in-Residence at the University of California at Davis Department of Theater and Dance. He has also partnered with the University of Iowa, and his "Gurs Zyklus," a new music/performance/multi-media installation created in collaboration with sound sculptor Trimpin debuts at Stanford University in May 2011.
For more information on Eckert, visit http://www.rindeeckert.com/.