W&M team clubbed the baseball
A William & Mary baseball team just competed in the World Series.
It wasn't the W&M varsity baseball team, and it wasn't the annual College World Series in Omaha, Neb.
The squad that represented the College was the
W&M club baseball team
, members of the 70-school National Club Baseball Association, which staged its World Series from May 21-25 at Point Stadium in Johnstown, Pa.
The Tribe club team finished its spring season with a 13-2 record and swept three games in the District III playoffs against Georgetown and Longwood to advance as the top seed. And while they began the double-elimination tournament with a victory over Rice, the Tribe was ousted after losses to eventual champion Northeastern and in a rematch against Rice.
Still . . .
"It was an awesome experience," said team president Dylan Grant, a sophomore second baseman/shortstop. "I'd never been to a national baseball tournament, or played in a stadium that size. It was amazing to walk down the streets of Johnstown and have people stop us as we'd go in to eat to say, 'You guys played an awesome game; we can't wait to see you again tomorrow.' "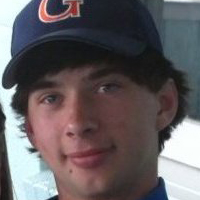 Playing club baseball may be the epitome of a labor of love. Players pay dues of $125 per semester to defray the costs of umpires, travel and field rentals. The W&M team practices a minimum of six hours per week, usually Monday, Wednesday and Friday from 4-6 p.m. on the intramural field near W&M Hall.
"It's not a completely dominating activity; a lot of the players are also in fraternities and I know a couple work for The Flat Hat," said Reid Lawrence, first baseman and the team's third-leading hitter at .364. "We definitely play for the love of the game, that's how it's laid down with just about everyone. Some of us played in high school, but some guys didn't and just gave it a shot because they love baseball."
W&M helps. The uniforms they wear are hand-me-downs from the College varsity, and the school helped defray the travel and lodging costs of the trip to Johnstown.
"This had been a wonderful experience for me," said Lawrence. "We have a great group of guys, a very eclectic group of guys. Everyone brings something different to every practice, every game."
The team was led by freshman infielder Arthur Nutter, who batted .489, and senior outfielder James Mancari, who batted .477. 
The pitching was anchored by senior Gabe Perkinsion. A high school soccer player, Perkinson's baseball debut was a rousing success with a 5-1 record and earned-run average of 3.98. Bolstering the staff was freshman Max Cunningham, 4-0 with a 4.28 ERA.
The team was barely over .500 during its fall season, but Grant said winning 17 of 21 spring games was only mildly surprising.
"The attitude of the team changed." he said. "In the fall, we put a lot of pressure on ourselves to get better so that we could compete in the spring. Come the spring, we said, 'OK, we're there, now let's just go have fun.'
"And we did. We had confidence, and we had fun. I know we had more fun than any other team in the World Series, even though we were eliminated. We just really enjoyed hanging out together and playing together, and it showed."
There were seven seniors on the 2010 squad, but three are returning to W&M for graduate school. Under National Club Baseball Association rules, they will be eligible to continue playing for the Tribe.
"So we're losing four good players," Grant said. "But we're still confident that we have enough players returning that we'll be good again next year."