W&M student finishes third in Miss USA
William & Mary student Samantha Casey finished third in the Miss USA 2010 pageant held Sunday evening in Las Vegas.

Casey, a student majoring in marketing at William & Mary, competed in the pageant as Miss Virginia USA.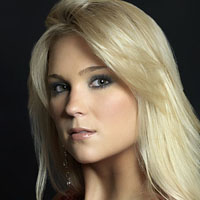 The 2010 Miss USA pageant was shown live on NBC from the Planet Hollywood Resort & Casino in Las Vegas at the Theatre for the Performing Arts. Contestants from all 50 states and the District of Columbia were judged in three categories: swimsuit, evening gown and interview. The 2010 winner was Michigan's Rima Fakih.
Casey made a strong run in the pageant. After advancing to the top five, contestants took random questions from the judges. The Food Network's Paula Dean asked Casey about the oil spill in the Gulf of Mexico and whether energy giant BP should be pay entirely for the cleanup, even if it means the company would go out of business.
"I do think they need to take the responsibility for what happened," Casey answered. "But at the same time I think we need to figure out better ways of finding alternative energy fuels and reducing our dependency on oil in general."
Though she took off last semester to prepare for the Miss USA pageant, Casey said the William & Mary community has been very supportive throughout the process. In November, she won the Miss Virginia USA pageant.
"William & Mary has been incredible throughout my preparations to compete," Casey said earlier this year. "The support that the community has shown me has truly been remarkable and I am so touched by it."