W&M Rector Henry C. Wolf to speak at 2010 Convocation Ceremony
Henry C. Wolf '64, J.D. '66, William & Mary Rector and retired vice chairman and chief financial officer of Norfolk Southern Corporation, will welcome the College's newest students to campus during the 2010 Convocation Ceremony on Aug. 27.
 "Hank Wolf has long been a stalwart and devoted alumnus of William & Mary," said President Taylor Reveley. "It is wonderful to have him welcome our new students as they begin their own enduring relationships with the College." 
Opening Convocation, a long-standing tradition that marks the beginning of the academic year, will be held in the Wren Courtyard at 4:30 p.m. Following remarks by Wolf and Reveley, new undergraduates, transfers and graduate students will walk through the doors of the historic Wren Building where they will be greeted in the Wren Yard by hundreds of cheering students, faculty, staff, and alumni.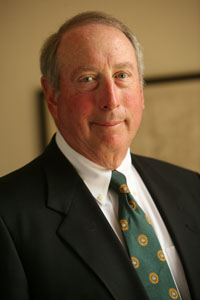 "I am extremely pleased to have an opportunity to welcome the Class of 2014 to the College at Opening Convocation", said Wolf. "This is a very special occasion for me, as well, in that it marks the 50th anniversary of my own arrival in Williamsburg and the beginning of a lifelong association with William & Mary."
Wolf's own connection to William & Mary began in 1960 as an undergraduate.  He received a bachelor's degree in Economics in 1964 and in 1966 received his law degree from the William & Mary Law School.
Wolf has remained a committed alumnus of William & Mary. In 2006, the William & Mary Law School named its renovated and expanded, state-of-the-art law library as the Wolf Law Library. In 2006, the law school also recognized Wolf with an honorary membership in Order of the Coif, a national honor society that recognizes intellectual and professional accomplishment.
Wolf was first appointed to the Board of Visitors - William & Mary's governing body - in 2003 and he was reappointed in 2007. Wolf was elected Vice Rector in 2006 elected Rector of the College in 2009. In addition to his time on the Board of Visitors, Wolf is also an emeritus member of the Virginia Institute of Marine Science Council (1993-2001) and served as a member of the Board of Visitors at Eastern Virginia Medical School (1998-2004) and as an adjunct professor at Roanoke College (1975-1990). He has also served as a board member of the William and Mary Real Estate Foundation (2007-2010).
Following a career that spanned more than 34 years at Norfolk Southern, Wolf retired in 2007, serving the last 14 years as its chief financial officer. Prior to joining Norfolk Southern as a tax attorney in 1973, Wolf was a law clerk for the United States Tax Court and an attorney for the Internal Revenue Service. He also served four years in the U.S. Army, attaining the rank of captain in the Judge Advocate General's Corps.
Wolf is a trustee of the Colonial Williamsburg Foundation and a member of the boards of directors of AGL Resources, Inc., and Hertz Global Holdings, Inc. In addition to his William & Mary degrees, Wolf also holds an M.B.A. from Louisiana State University and a Master's of Law (L.L.M.) degree from Georgetown University School of Law. In 1992, he completed the Harvard Advanced Management Program at the Harvard Business School.