Tribe's magical season ends in Chapel Hill
Tony Shaver has lots of fond memories of Carmichael Arena from his days playing for University of North Carolina basketball legend Dean Smith.
The William & Mary basketball coach will have to be satisfied with them.
North Carolina's Tar Heels ended the Tribe's best campaign since the 1949-50 season Tuesday night, taking down the College, 80-72, in the first round of the National Invitation Tournament. The loss gave W&M a final record of 22-11 this season.
"I've probably never been prouder of a group of kids than I am these guys," Shaver told the Newport News Daily Press. "The way they play, the way they keep their composure, the schedule they faced this year and to play as well as they did is very impressive to me."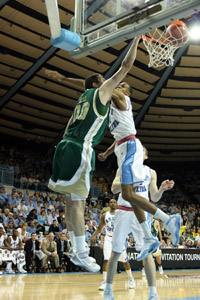 The Tar Heels outscored the College, 11-3, over the final 6:15 to erase a three-point deficit and deny W&M its first victory in Chapel Hill, N.C., in 10 attempts.
David Schneider, playing in a school-record 121st game, nailed his seventh three-point shot of the game with 5:08 to play to give W&M a 72-69 advantage over the fourth-seeded Tar Heels. But the fifth-seeded Tribe missed their last seven shots and committed four turnovers, too much to overcome against the taller, more athletic Tar Heels.
UNC's Dexter Strickland made four consecutive free throws to recapture the lead for the Tar Heels (17-16). Larry Drew added two more to push the margin to three points to set up may have been the play of the game.
Carolina's 7-foot sophomore Tyler Zeller, guarding Stephen Hess beyond the key, stole a pass for Hess, who thought he was fouled. Zeller never stopped dribbling and laid the ball in the basket to make it a two-possession game. Schneider then missed three consecutive shots, the Tar Heels added three more free throws, and W&M's upset bid was over.
W&M stayed in the game on the strength of its three-point shooting and unselfish play. The Tribe converted 16 of 43 three-point attempts. Of their 26 total baskets, 22 came after assists. Schneider led all scorers with 21 points, with JohnMark Ludwick adding 15, Danny Sumner 13 and Marcus Kitts 12. Deon Thompson led UNC with 20 points.
The Tribe played without sophomore forward Quinn McDowell, out with a high-ankle sprain. His presence was missed, as W&M, which normally commits 10 turnovers a game, committed 9 (of 17) in a first half that ended with the Tar Heels ahead, 43-33. W&M took 21 three-point jumpers in the first half, but made just seven.
"I don't say this to cry, but we played without one of our best players tonight (McDowell)," Shaver said. "The kid is one of our best, period. He's a feel guy. He's a guy who late in the game you always try to get the ball in his hands, so our rotations weren't right at the end of the game. We had people out of position. I think their pressure forced the turnovers. They really overplayed our passes to the post and got some key turnovers at that spot."
 North Carolina scored the game's first nine points before Shaver called a timeout to settle down his team. It worked. With Sumner, Ludwick, and Schneider all draining 3-point jumpers (Schneider had two), the Tribe took a 12-11 lead.
 The teams traded baskets until the taller Tar Heels out together an 11-2 run to open a 29-20 lead. Thompson started the run with a follow of Marcus Ginyard's missed jumper, followed by drives by Strickland, Zeller, Travis Wear and a three-point corner jumper by Will Graves.
Although W&M would trim the deficit to five on Schneider's three-point jumper, UNC closed with a rush to enter the locker room with a double-digit lead.
But the Tribe came out of the locker room on fire. Ludwick knocked down two three-pointers, Kitts slammed home a pass from Schneider, after which Schneider drilled a three-pointer to bring the Tribe to 45-44. W&M kept raining threes, with Schneider grabbing two more and freshman Kyle Gaillard hitting one from the deep corner to keep the College close at 55-53.
Hess then banked in a high-arcing shot to tie the score, and the Tribe took the lead on a pair of free throws by freshman Kendrix Brown. After a Tar Heels miss, Brown threw a high lob at the basket that Sumner slammed home to put W&M up by four with 11:51 to play in the game.
Leading up to the game, there was plenty of controversy over why the Tribe was being forced to travel to Chapel Hill, N.C. The Tribe fashioned a superior record; the Tar Heels were 16-16 entering the game. UNC had an RPI of 92; W&M's was 58.
The Tribe, Colonial Athletic Association tournament runners-up, won 10 road games this season, including victories at Atlantic Coast Conference stalwarts Maryland and Wake Forest. The Tar Heels won just twice away from their home court.
C.M. Newton, chairman of the NIT selection committee, explained that the Tar Heels' strength of schedule made the difference with the committee, eight of whom voted Carolina a higher seed than the Tribe. Carolina's strength of schedule was 17. Despite playing nearly half of its schedule against teams participating in the four postseason tournaments, William & Mary's schedule ranked 101st-toughest in the country.
None of that mattered Tuesday night inside cozy Carmichael Arena. W&M gave its more heralded opponent all it could handle for 35 minutes and almost gave Shaver a night he would never forget.