One Tribe. One Family: SAAC raises $9,000 for Weaver Memorial Award
Thanks to the generosity of the William & Mary community, the Student-Athlete Advisory Council (SAAC) is nearly halfway to its goal of raising $20,000 to honor the memory of Lt. Todd Weaver '08.

Thirty people, both students and members of the Weaver family, canvassed the tailgating areas around Zable Stadium prior to last Saturday's FCS playoff game between the Tribe and Georgia Southern selling $3 wristbands sporting the logo "One Tribe. One Family."

Fueled by a large purchase by W&M athletes – the football team alone bought 300 wristbands -- and public sales at the Campus Shop, the group raised more than $9,000. The proceeds will be turned over to the Weaver family to supplement their project to raise $50,000 to establish the Todd Weaver Memorial Award.

And the "Tribe Band Boys" – that's what the five or six most heavily involved SAAC members call themselves – are just getting started. (The Student-Athlete Advisory Council is made up of two students from each of the College's 23 teams, plus cheerleading.)

When they return from holiday break, they and their supporters will resume selling the wristbands at Tribe basketball games and other campus functions. The College's Greek community will be called upon to fulfill their pre-sales commitment to get involved. A website will be up for alumni to purchase the bands.


"I am optimistic that this initiative will catch on among students in the near future," said Max Sabert, a gymnast who is one of the group leaders. "We have no contingency (if they don't) reach our goal. Something we all learned from athletics is that thinking negative doesn't do anything positive. We all have our minds set on the goal and we will do whatever it takes to reach that goal. It is very similar to an athlete mentality. We put in the extra work when needed and we don't want anyone out there working harder than us. We also don't want to look back in five months, five years, ten years from now and say I wish I would have put more time into that."

Lt. Weaver was killed on Sept. 9, a couple of months before the SAAC originally decided to make wristbands for student-athletes at the College. Then they decided to make them for a small profit and turn over the proceeds to a charity. Then they heard of the Weaver family's goal to raise $50,000 to fund one student a year spending one semester studying abroad. The more they read about Weaver, an extremely popular student while at W&M, the more they wanted to help.
Weaver, a star cadet with the College's ROTC and graduate of Bruton High School in York County, died in Kandahar, Afghanistan, of wounds suffered when insurgents attacked his unit with an improvised explosive device, according to a release by the U.S. Department of Defense. He was assigned to the 1st Battalion, 320th Field Artillery Regiment, 2nd Brigade Combat Team, 101st Airborne Division (Air Assault), Fort Campbell, Ky.

Recently, William & Mary dedicated dedicated a tree on the Historic Campus in Weaver's honor.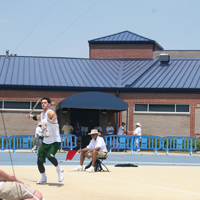 "As a student and as a person, he embodied what the William & Mary student should be," Brandon Heroux of the track and field team told a Norfolk, Va., television station last week, the day the wristbands went on sale. "I think the bands are a great way to unite the current students and alumni and really just honor his memory and just celebrate his life."

One alumnus from Richmond purchased 100 bands on Saturday. Tailgaters outside the stadium were buying them by the dozen.

"We had him for 26 years and was just a bright light in our life from the time he was born," Weaver's mother, Jeannie, said. "We will continue to have him, just in a different way."
To contact SAAC for wristbands, e-mail onetribeonefamily@gmail.com.