Live from New York, it's Sophia Serghi
Sophia Serghi will be in New York on Dec, 7, and it's not to shop for the holidays.
William & Mary's prolific Associate Professor of Music will perform a host of original compositions at Carnegie Hall at 8 p.m.
"High Strung" is the unofficial name of a concert that will feature Serghi's friends and playing partners of 15 years – the famous FLUX String Quartet. Together, they'll delve a little deeper into her unique world of blended Byzantine and avant rock music.
The concert, co-sponsored by the College and the Ministry of Education and Culture of the Republic of the Government of Cyprus, will be performed in the Joan and Samuel I. Weill Recital Hall. Serghi is a citizen of the United States and Cyprus.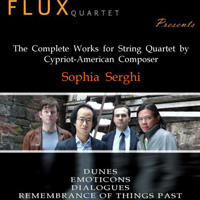 Tickets are $25, and may be purchased through the
Carnegie Hall
box office. With a capacity of 268, Weill Hall is ideal for recitals, chamber music concerts, and symposia.
"For the performers, it will basically be like running the New York marathon," she said, laughing. "I try to pack my music with adrenaline, make it very sports-oriented. My musicians literally stock up on Gatorade a couple of days before taking to the stage."
This will not be Serghi's first exposure at Carnegie Hall, but it will be her first appearance there in more than two decades.
"The first time I played Carnegie I was 15," she said. "It was a long time ago, and I was with this phenomenal choir from the north side of Chicago that was chosen to perform at Carnegie Hall. And that was my first time on stage.
"What's really funny is that I haven't been back on stage at Carnegie in 22 years."
Although the concert takes place during the early holiday season, there's a bittersweet side to the evening. It falls on the birthday of Serghi's late mentor, Columbia University Professor Jonathan Kramer, who passed away in 2004.
"The concert will be dedicated to his memory," Serghi said.
High-energy performances typify FLUX appearances, generating a new audience for the innovative music of tomorrow. They are renowned for their tireless renditions of Morton Feldman's String Quartet No. 2, which lasts more than six hours and has delighted critics.
"...The FLUX Quartet is legendary for its furiously committed, untiring performances," Alex Ross wrote at
www.therestisnoise.com
.
They have "brought a new renaissance to quartet music," added Kyle Gann of
The Village Voice
. 
"One of the most fearless and important new-music ensembles around," praised Joshua Kosman of the
San Francisco Chronicle
.