Jimmye Laycock selected to Hampton Roads Sports Hall of Fame
In recognition of one of the peninsula's most enduring and successful coaching careers, William and Mary Head Football Coach Jimmye Laycock has been named as one of seven inductees for the Class of 2010 for the Hampton Roads Sports Hall of Fame.
Laycock joins boxing champion Pernell Whitaker, longtime NFL star Kenny Easley, stock car racer Ricky Rudd, football coach Mike Smith, and local broadcasters Jack Ankerson and Tohny Mercurio in the Class of 2010.  The group will be the third class inducted into the Hampton Roads Sports Hall of Fame.  The ceremony will take place on October 26 at a banquet at Norfolk Scope.
Reservations for the banquet are available now. The cost is $70 per person or $500 for a table of eight. For information or to make reservations, call 622-2222 (extension 101).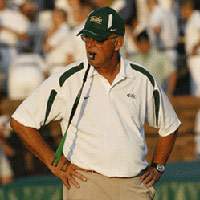 A native Hamilton, Va., has fashioned one of the most impressive runs of sustained successes anywhere in the nation, as his William and Mary team's have set a standard of excellence, both athletically and academically, that is unmatched. Laycock has fashioned winning seasons in 20 of his 30 seasons on the Tribe sidelines, where he has run up a school record 200 wins (vs. 141 losses) and collected three league championships.   The 2009 season was a representative year for Laycock, as was named as the state's Division I Football Coach of the Year (for the third time in his career) by leading the Tribe to 11-3 record en route to advancing to the NCAA Semifinals and earning a national ranking as high as No. 3 in the final national polls. The impressive victory total equaled a school record, while it marked the second time he has guided the Tribe within a game of the national championship in the last six years. Laycock also reached a milestone last fall, as he became just the 13th head coach in FCS history to win 200 games.
But, his successes are far from limited to just the playing field, as he has also had his team's recognized by the NCAA for academic excellence in each of the five years the Academic Progress Reports (APR) have been monitored by the governing body. The 2004 squad, which also posted 11 wins and appeared in the National Semi-Finals, recorded a 100% graduation rate.
The Hampton Roads Sports Hall of Fame is currently housed in the lobby of Harbor Park in Norfolk. It was established in 2008 as a way to honor the athletes, coaches and administrators who have made significant contributions to sports in our area.
The following is brief information on the six other inductees.
Jack Ankerson
has spent more than 30 years on the sports scene in Hampton Roads. He has served as an administrator and broadcaster with the ABA's Virginia Squires, the Norfolk Tides baseball team and Old Dominion University. He has also served on the Hampton Roads Sports Commission. His voice is well known to sports fans throughout the region. 
Kenny Easley
, a graduate of Oscar Smith High School in Chesapeake, was a three-time All-American at UCLA and an All-Pro defensive back for the Seattle Seahawks in the NFL. He was chosen the NFL's Defensive Player of the Year for 1983-84. He is currently a successful businessman in Norfolk. 
Tony Mercurio
is a longtime broadcaster and radio personality with a popular drive-time sports talk show for 24 years. He has long associations with Old Dominion University and the Norfolk Tides. He has been named the area's sportscaster of the year 14 times. He established the Hampton Roads Sports Hall of Fame in 2008. 
Ricky Rudd
, who was born and raised in Chesapeake, won 23 races in his NASCAR career. He holds the NASCAR records for consecutive starts (788) and consecutive seasons with at least one victory (16). 
Mike Smith
, longtime football coach at Hampton High School, is the winningest coach in state history. He has more than 400 career victories and 11 state championships and has coached many players who went on to outstanding college and professional careers. 
Pernell "Sweet Pea" Whitaker
, born and raised in Norfolk, is considered to be one of the greatest boxers of all time. He won an Olympic gold medal in 1984 and held professional titles in four weight classes. At his peak, he was considered to be the best "pound-for-pound" fighter in the world. After his retirement from the ring, he remained in Norfolk to work with young boxers.