Hayes Writers Series to celebrate life and work of poet Lucille Clifton
The Patrick Hayes Writers Series at the College of William & Mary will pay tribute to the late Lucille Clifton on Nov. 10 at 7 p.m. in Tyler Hall Room 301.
Thirteen participants, including W&M students, faculty and visiting professors Joanne Gabbin and Hilary Holladay of James Madison University will read, recite and discuss the works of one of America's most distinguished and honored black poets. Gabbin is the director of The Furious Flower Poetry Center at JMU and more recently the editor of "Shaping Memories: Reflections of African American Women Writers." Holladay, visiting professor of English at JMU, is author of "Wild Blessings: The Poetry of Lucille Clifton."
The program, which is free and open to the public, will be followed by a reception.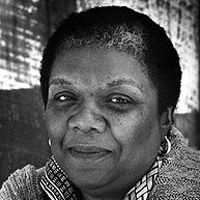 Clifton, who died on Feb. 13, 2010, was born in Depew, N.Y., in June 1936. Although her first book of poems, "Good Times," was rated one of the best books of 1969 by the New York Times, Clifton remained employed in state and federal government positions until 1971. Then she became a writer-in-residence at Coppin State College in Baltimore, Md., where she completed two collections: "Good News About the Earth" (1972) and "An Ordinary Woman" (1974).
Her collection "Good Woman: Poems and a Memoir 1969-1980" was nominated for the Pulitzer Prize. "Two-Headed Woman" in 1980, also a Pulitzer Prize nominee, was the recipient of the University of Massachusetts Press Juniper Prize. She also wrote "Generations: A Memoir" in 1976 and more than sixteen books for children, written expressly for an African-American audience.
Her honors included an Emmy Award from the American Academy of Television Arts and Sciences, a Lannan Literary Award, two fellowships from the National Endowment for the Arts, the Shelley Memorial Award, and the YM-YWHA Poetry Center Discovery Award. In 2007, she became the first black woman to win the Ruth Lilly Poetry Prize award, among the most prestigious awards that can be won by an American poet. It included a $100,000 stipend. In 1999, she was elected a Chancellor of the Academy of American Poets.

She was the second woman and the first African American to serve as poet laureate of Maryland, a position she held from 1979 to 1985. She also served as Distinguished Professor of Humanities at St. Mary's College of Maryland.

For more information,  contact Hermine Pinson at hdpins@wm.edu or (757) 221-2437.