Gentle Ben a quiet force on Tribe defense
Last summer, Ben Cottingham was part of one of the strangest announcements ever made to a William & Mary football team.

"Guys, yoga at 4 o'clock."

Cottingham, a fifth-year senior cornerback for the No. 1-rated Tribe (7-2, 5-1 Colonial Athletic Association), had long ago decided he was going to do anything he could to maximize his potential. Several years before, he studied upperclassman David Cox's work habits and committed himself to being as much like him as possible. That even included putting aside the weight-room exercise sheet he'd been given and taking on Cox's more strenuous regimen.
"He was a player who would do anything he could to get better, whether it was eating right, even going to bed at the right time," recalled Cottingham, who is in graduate school at the College. "I wanted to follow his lead. My sheet was enough but I wanted to get to a step above. It was more rigorous for a person of my strength and weight to do his weights. But that became my goal: lift as much weight as I could as hard as I could.

"It paid off."

So has the yoga. One of Cottingham's goals this season was to stay healthier and more flexible than in the past. He wished the same for his teammates. Hence the summer command to meet at the Laycock Center for 45 minutes a day.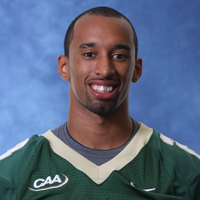 It even continues two hours before home games. Cottingham and about a dozen players retreat to a room in the Laycock Center for 30 minutes to get their muscles limber and their minds right.

"It's really helped this year; my body has never felt better in the five years that I've been here," he says.

Cottingham has never played better, either. Entering Saturday's game against James Madison (4-5, 1-5 CAA), his 42 tackles are more than he had all of last season. Although he has no interceptions, Cottingham has contributed 3 ½ sacks, broken up seven passes, and forced a fumble.

"He's risen to the occasion," Tribe coach Jimmye Laycock said. "People look at him and say, 'He's not a very big defensive back, we're going to go after him in some situations.' He's stood up to those challenges and come through.

"When you're talking Ben Cottingham, you know that he's going to be there, going to do his very best, and going to perform very well."

Coming out of high school, Cottingham was anything but highly recruited. He came to the College on academic scholarship, tried out for the football team, and won a roster spot. That was all he won. He and his family were paying a good portion of his tuition and expenses until a couple of years ago, when he finally was offered an athletic grant.

"I was so very, very excited," he says.

Cottingham is soft-spoken and calm, quietly focused, looking forward to job-hunting once his Masters degree in Education is completed. In many ways, he symbolizes an athletic program that, according to NCAA statistics released in October, has a 95-percent graduation rate. The NCAA's latest figures show Tribe football at 94 percent, crushing the average of 69 percent.

Cottingham will tell you: It's not easy.

"I'm waking up at 7:30, and staying up until 11:30 at night -- doing schoolwork, not chilling out with videos or anything," he explained. "Plus, being in Elementary Education, I have to make trips to my local school to make observations. It's a lot busier than undergrad. There's a lot of tedious work to do. Undergraduates have a paper here, a paper there, an exam. Now, I have something to turn in every day for three different classes."

It's an ambitious goal, taking 15 graduate credit hours while playing football for an FCS national championship contender. But it's no more ambitious than the goal Cottingham has set for the Tribe defense in this bizarre season in which W&M has kept winning despite the loss to injury of its top three quarterbacks.

"Our goal is to be a championship defense," Cottingham said. "Right now, we've put ourselves in position to win a conference championship and to make the playoffs, and eventually to get to the national championship. If we win the national championship, we can call ourselves a championship defense.

"It's definitely been a growing process. I knew (entering the season) that we had a nice foundation with experience and ability and had been there before. But we also had new guys who had to work their way in. Eliminating mistakes is a big part of being a championship defense; we've done a good job with that. Hopefully, it'll carry through these last two games and into the playoffs."