Ed Irish discusses financial aid with Daily Press readers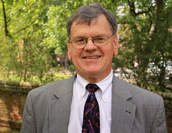 William & Mary's director of financial aid, Ed Irish, spoke with readers of the Daily Press Newspaper Jan. 26 through a "Live Chat" hosted on the paper's web site. Irish was joined by officials from Christopher Newport University and Newport News Public Schools who discussed plans and options for paying for a college education. The panel talked about filling out financial aid applications, pursuing scholarships and covering college costs with grants, loans, awards, jobs and other aid. View the entire conversation online.
Irish has served as the Director of Financial Aid at William & Mary since January of 1987. Prior to coming to the College he held positions at Kent State, Ohio Wesleyan, and Georgia Southern.