CVC campaign drawing to a close
Though Valerie Trovato supports several charities, she does most of her giving in one place: through the Combined Virginia Campaign.

"Giving through CVC reminds me how fortunate I am," she said.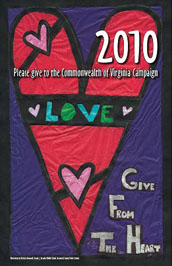 Trovato, an administrative office manager in the government department, is one of approximately 250 William & Mary employees who have signed up to give through the CVC, an annual fundraising campaign among Virginia state employees. Employees may select to give to more than 1,300 participating charities through either one-time gifts or payroll deductions.

This year's campaign, which began Oct. 1, comes to a close Dec. 15. Organizers at William & Mary hope to reach their goal of 375 donors by that date.

"No amount is too small and every contribution matters," said Carla Costello, the CVC coordinator for the College.

Trovato said she has given through the CVC for "as long as I can remember."

"Even with a tight budget, a little bit can go a long way," she said.

Ruth Hines, an administrative specialist in the provost's office, has also given to the CVC for some time, at least 25 years.

"Even though the economy is suffering, people need to remember charities are suffering , too, and they cannot do their good work without our assistance," she said.

For more information on the campaign and giving options, visit the W&M CVC website.