Governor McDonnell to speak at W&M's Charter Day
The Commonwealth of Virginia's new chief executive and two distinguished academics will be honored during the annual Charter Day ceremony at the College of William and Mary.
Governor Robert F. McDonnell, who will receive an honorary degree of doctor of laws, will serve as the keynote speaker at the ceremony on Feb. 6, 2010. Martha Nussbaum, the Ernst Freund Distinguished Professor of Law and Ethics at the University of Chicago Law School, and R. Wayne Kernodle, emeritus professor of sociology at William & Mary, will also receive honorary degrees at the ceremony.
"Charter Day is one of William and Mary's most important annual rites," said William & Mary President Taylor Reveley. "It's grand that Governor McDonnell will join us to hear our royal charter read and to celebrate the College's 317th birthday.  We look forward to his address and to the opportunity to honor him for his years of public service.  It will also be wonderful to honor the renowned philosopher and author Martha Nussbaum and the incomparable Wayne Kernodle who has made such an enormous difference for the better at William and Mary since joining our faculty right after World War II."
Nussbaum, the acclaimed author and eminent American philosopher, will receive an honorary doctor of humane letters degree. Kernodle, who was the first faculty member hired at the College following World War II and later founded the Christopher Wren Association for Lifelong Learning, will also receive an honorary doctor of humane letters. The event, which is scheduled for 10 a.m. in Phi Beta Kappa Memorial Hall, marks the 317th anniversary of the awarding of the Royal Charter from King William III and Queen Mary II of England establishing the College.
Robert F. McDonnell
The son of an Air Force officer, McDonnell attended the University of Notre Dame on an Army ROTC scholarship, graduating in 1976 with a bachelor of business administration degree in management. In October of that year, he went on active duty with the U.S. Army, serving first in Germany. During his time there, he earned a master's degree in business administration by taking night classes from Boston University. In 1981, McDonnell left active duty, but he remained in the U.S. Army Reserves until finally retiring in 1997.
After leaving active duty, McDonnell began working for the American Hospital Supply Corporation. In 1985, he enrolled in Regent University where he both attended law school and sought a master's degree in public policy and communications. During that time, McDonnell continued serving in the Army Reserves, worked as a sales manager for The Virginian-Pilot and completed an internship on Capitol Hill with the House Republican Policy Committee. After graduating from Regent in 1989, he became a prosecutor in the Virginia Beach Commonwealth Attorney's Office.
In 1991, McDonnell was elected to the Virginia House of Delegates, representing the 84th District located in Virginia Beach. In his 14 years as a delegate, McDonnell served as the Assistant Majority Leader and Chairman of the House Courts of Justice Committee, and he was chief patron of numerous bills addressing crime issues. He also authored legislation and secured funding for the creation of Virginia's Judicial Performance Evaluation Program to guide the General Assembly in reappointing judges. For his efforts, he was named the Network of Victims of Crime Legislator of the Year in 1996, the National Child Support Enforcement Association National Legislator of the Year in 1998, the Family Foundation of Virginia's Legislator of the Year in 1998 and 2001, and the Virginia Sheriffs' Association Legislator of the Year in 2005.
In 2006, McDonnell took office as the Attorney General of Virginia. In that role, he is credited with enacting a 25-year mandatory minimum sentence for violent child sex predators, increasing penalties for drug dealers, and making Virginia a national leader in combating internet crimes and identity theft. He is also credited with strengthening Virginia's mental health laws, cracking down on animal fighting, establishing a "senior alert" to assist in locating missing seniors, and creating a state-of-the-art sex offender registry, and providing new tools for law enforcement involved in online investigations. McDonnell also created and led Virginia's Youth Internet Safety Task Force and established the ongoing Attorney General's Task Force on Regulatory and Government Reform.
McDonnell has partnered with numerous non-profit organizations during his time in office, including the Federation of Virginia Food Banks, the Cal Ripken Sr. Foundation, The Healing Place and the Boys & Girls Clubs of America.
McDonnell was inaugurated as the 71st governor of Virginia on Jan. 16, 2010. He and his wife, Maureen, have five children.
Martha Nussbaum
Nussbaum received her bachelor's degree from New York University and her master's and doctorate degrees from Harvard University. In the 1970s and early 1980s, she taught philosophy and classics at Harvard before taking a position at Brown University. In 1986, she published her acclaimed book on Greek ethics, titled "The Fragility of Goodness: Luck and Ethics in Greek Tragedy and Philosophy."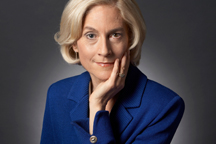 In her current position as the Ernst Freund Distinguished Service Professor of Law and Ethics, Nussbaum holds appointments in the philosophy department, law school and divinity school at the University of Chicago, as well as in the classics and political science departments. She is a member of the committee on southern Asian studies and a board member of the human rights program. Nussbaum is also the founder and coordinator of the Center for Comparative Constitutionalism.
She has chaired the American Philosophical Association's committee on international cooperation and the committee on the status of women, and she currently chairs its new committee for public philosophy. She has been a member of the association's national board and was one of its three presidents from 1999 to 2000. Nussbaum served as a research advisor at the World Institute for Development Economics Research from 1986 to 1993, and she has been a member of the Board of the American Council of Learned Societies.
Nussbaum has published numerous articles and books throughout her career. She received the Brandeis Creative Arts Award in Non-Fiction in 1990, the PEN Spielvogel-Diamondstein Award in 1991, the Ness Book Award of the Association of American Colleges and Universities in 1998, the Grawemeyer Award in Education in 2000, the book award of the North American Society for Social Philosophy in 2002, and the Association of American University Publishers Professional and Scholarly Book Award for Law in 2004. In 2009, she received the A.SK award from the German Social Science Research Council for her contributions to "social system reform" and the Henry M. Phillips Prize in Jurisprudence from the American Philosophical Society. She has also received honorary degrees from more than 35 universities and colleges around the world.
R. Wayne Kernodle
Kernodle's devotion to William & Mary is more than half a century strong.
A native of North Carolina, Kernodle received his bachelor's, master's and doctorate degrees from the University of North Carolina at Chapel Hill. In 1945, he was hired by William & Mary, becoming the first instructor added to the faculty after World War II. The courses that Kernodle taught included sociological theory, demography, and marriage and family analysis. He was part of the research team that studied the impact of the second World War on Hampton Roads. That study was used as a blueprint for postwar planning for cities and counties around the area.
In 1950, Kernodle became the chair of the sociology department, and he remained in that position for 20 years. During his career, he added the first anthropology courses ever offered at the College and established the joint department of sociology and anthropology. It grew from three to 16 members under his leadership, before anthropology became a separate department.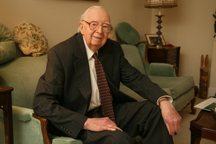 His legacy at William & Mary goes beyond departmental growth. As a young faculty member, Kernodle helped investigate an athletics scandal at the College in the early 1950s. His work helped restore the program's reputation and academic integrity and he even served temporarily as William & Mary's acting athletic director. He also co-founded a Wednesday faculty lunch group that began in 1952 and still meets today.
Kernodle has served the College in various roles and on a number of committees, including chair of faculty affairs, athletics, curriculum/educational policy, tenure and promotion, and faculty-student cooperative committees. He also was part of the committee that developed the honors program at the College. Additionally, Kernodle served as the coordinator of the Marshall-Wythe symposium course for juniors and seniors from 1958-64, bringing prominent scholars and political leaders to the campus. He also edited a five-volume publication of these lectures.
The professor was also the head coach of the men's varsity tennis team between 1951 and 1955, and he often served as the chief marshal at the College's Charter Day and Commencement ceremonies. He also was initial coordinator of William & Mary's Elderhostel, which was one of the first and most popular such programs in the nation. He served as the faculty advisor to Omicron Delta Kappa, and he continues to serve as the chair of the Faculty Advisory Committee of The Borgenicht Program for Aging and Exercise Science and board member of The Borgenicht Foundation. In 1976, he earned the College's Thomas Jefferson Award, which is given annually to a member of the College community for significant service through personal activities, influence, and leadership.
Kernodle's scholarly work has been published in numerous academic journals, including the American Sociological Review, Social Forces, Psychiatry, Hospital and Community Psychiatry, Sexual Behavior, Resources in Education, as well as the National Magazine of Harpers and World Tennis. During his time at the College, he was named a Heritage Fellow.
Since his retirement, Kernodle has continued publishing, including a series of articles on the presidents of William & Mary. After serving for more than four decades at the College, Kernodle retired from William & Mary in 1987 and received the title of professor emeritus. In 1991, he and his wife, Ruth Lynch Kernodle, founded the Christopher Wren Association for Lifelong Learning at William & Mary. In 2008, the two were named honorary alumni of the College.
Tickets are required for the Charter Day ceremony. After tickets have been distributed to faculty, students and staff, a limited number will be available to the general public after Feb. 1. Those seeking tickets should call (877) 296-7787.