'Around the Edges' uses theatre as a vehicle for discussion
William & Mary's Department of Theatre, Speech and Dance will begin a new performance series this week designed to use theatre as a vehicle for discussion.
According to a press release from the department, the "Around the Edges" series was created to engage the campus and local community in discussions about the social, ethical and political themes and ideas presented through dramatic playwriting.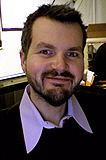 The series, which was organized by Professor Matthew Allar and students from the department, will begin with a staged reading of Richard Kalinoski's "My Soldiers" on Oct. 15 at 7 p.m. in the Dodge Room of Phi Beta Kappa Hall. "My Soldiers" focuses on a woman who has recently returned home from a tour of duty as a medic in Iraq and the struggles she faces.
Following a staged reading of the play, a discussion will be held among audience members and a panel of experts.
Because of the College's commitment to building and maintaining positive relationships with the Williamsburg and Hampton Roads areas, Allar said he felt it was important that the theatre department present pieces that address issues important to community members.
"Theatre has proven to be a wonderful vehicle for social, cultural and political discussion since the time of the Greeks," said Allar. "In keeping with this tradition, the new series will attempt to present work that fosters this sort of interaction."
Admission to Friday's event is free, but reservations are required due to limited seating. Those interested in attending should send an e-mail to WMAroundTheEdges@gmail.com.
The department hopes to host one installment of the series each semester.