Alumnus organizes 'Miles for Smiles' race
Jason Schoener '07, a dental student at VCU and former member of the William & Mary track and cross country teams, has run in many road races.
This weekend he will be taking on that familiar experience from a new angle.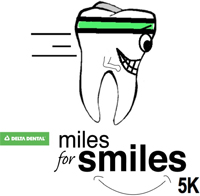 Schoener and some of his fellow students have organized a 5K charity race by the name of Miles for Smiles to be run in Richmond's Joseph Bryan Park Saturday at 8 a.m., when Schoener will trade out his normal role as a competitor for that of an official.
Schoener says that this event brings together two things that he loves: "running and dentistry." The athlete and dental student currently runs competitively with the help of a sponsorship from Mizuno shoe company, and has competed in a number of road races, including the Boston Marathon, at which he placed 14th in 2008. Currently a fourth-year student at the VCU School of Dentistry, Jason ran track and cross country at William & Mary under the direction of former coach Alex Gibby. Even after graduating, Schoener says he would come back to Williamsburg during his weekends for training sessions with the team.
"I would have never imagined in my early years at William & Mary that I would be a sponsored or professional athlete," Schoener said. "But… Gibby pushed me to be the best runner I could be."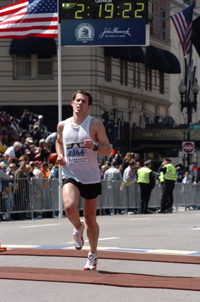 A week after finishing Boston Marathon, Schoener went on his first Mission of Mercy project with some fellow dental students. The Mission of Mercy, or MoM project, provides free dental care to underserved Virginians in areas such as Wise County, Grundy, and Emporia. While on these trips, Schoener treated several people who have been in pain for long stretches of time, including a mother who had chosen to feed her children over seeking treatment for an abscessed tooth.
Schoener said that the MoM projects he was a part of were different from any other work he's done, because "unlike regular dental offices where patients are not thrilled about going to the dentist, you treat patients that can't afford help and are in pain. They are so happy when you are able to treat them."
MoM is staffed by volunteers and funded by donations, and after his experiences working with the organization, Schoener decided to put together a non-profit road race to raise funds for future projects. Miles for Smiles began meeting on June 14, and since then they have raised over $8,000 with the help of Delta Dental, their primary sponsor.
On the day of the race, the first, second and third place finishers in each age bracket will receive prizes and be recognized at an awards ceremony at 9:15 a.m. Schoener, with the help of fellow dental students and William & Mary graduates Emily Schroeder '09 and Lindsey North '09, will be taking on a behind the scenes role on the day of the race, as they try to ensure that everything runs smoothly.
While Schoener said that he hopes his race becomes an annual event, he also has plans of his own for the future. He says he intends to go into an Advanced Education in General Dentistry (AEGD) residency program with the U.S. Air Force at the Academy in Colorado Springs. At the same time, he is also planning to run in the Houston marathon this coming January as he attempts grab the two hour, 19 minute time necessary to qualify for the Olympic trials in 2012.