W&M's student big band releases debut CD
The Wham Bam Big Band
at William & Mary to provide an additional way for student musicians at the school to perform jazz "in a modern and unique way."
"The group aimed to generate interest in live jazz performance, carving out a niche for the genre on campus so that other groups could develop. too," he said. "I hoped that The Wham Bam Big Band could serve as a foundation for building a thriving jazz community on campus, similar to our a capella community, where the interest of the current student body provides ample gigging opportunity and draws talent to this school that would otherwise accept elsewhere."
Now, the band's music will have an even greater reach as the group releases its first CD, titled "The Big Bang!"
The album was recorded in one, long session on the Friday before Spring Break, said Presler, a biology major.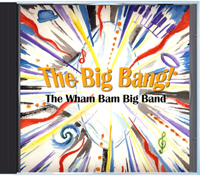 "We started recording at 5 and finished our session at 9:30 p.m.," he said. "This is particularly impressive because most groups with much smaller membership will spend several long days recording. Our band is much larger, yet we recorded our tracks in a fraction of the time."
The 20-student group cut the tracks in the band room with the help of
Christian Amonson
('09), who also recorded the Early Music Ensemble's premiere CD last year. The band recorded two takes of each track, and the best of those made it onto the CD.
The CD contains 12 tracks and "features everything from standard big band jazz, to Latin, to blues, to disco, to The Beatles and Chicago," said Presler. "Four of the songs are original arrangements." Some of the tracks include "Funky Town," "Groovin' Hard," and "You'd Be So Nice to Come Home To."
The album's title was decided upon during the session's dinner break.
"We felt it was an appropriate title for a debut album, especially given the band's contagious energy and explosive sound," said Presler. "The very last take of the very last song is actually our opening track. I feel this exhibits the bands energy throughout the session."
For the people involved in making the CD, Presler said he hopes they listen to the album "and go, 'Wow! That's us!'"
For those listeners not in the band, he said, "the ultimate goal of the album is to spark interest in seeing the group perform a live show."
"The recording does a phenomenal job of capturing the band's energy," said Presler. "Jazz is supposed to be deeply moving, whether the song conveys joy or tragedy, I hope the listener can get lost in the moment with the band and truly feel the music."
The CD costs $10 and can be ordered by sending an e-mail to
whambam@wm.edu
. Proceeds from the album sales will go to pay for the cost of the recording. Any additional earnings will help the band buy new equipment and cover travel expenses.