W&M Symphony Orchestra to honor the life of Burt Kester
When the William and Mary Symphony Orchestra takes the stage at Phi Beta Kappa Hall tomorrow night, they will not only be playing for the people in the audience but also for one long-time supporter and William & Mary family member whose seat will now go empty.
H. Burton "Burt" Kester, a lecturer in flute and bassoon at William & Mary, died at his home on Sunday, April 19. The orchestra's spring concert, scheduled for 8 p.m. on April 29, is being dedicated to his memory.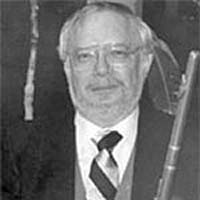 "The Department of Music was deeply affected by the sudden death of Burt Kester on April 19," said Tom Payne, chair of the department of music. "As an instructor in flute and bassoon for the past thirty-four years, and as the director of the Gallery Players ensemble, Burt was one of the most senior members of the department. His wit, humor, patience, and devotion to all facets of the music program at the College can never be replaced."
Kester attended the University of Maryland as a music major and served as a flutist and bassoonist with various ensembles and other professional musical organizations in the Maryland and Washington D.C. areas. After serving in the U.S. Air Force, he performed more than 400 shows while touring the country with the national company of "Fiddler on the Roof."  
Kester earned his bachelor's and master's degrees from the Carnegie Institute of Technology (now Carnegie Mellon University). After doing some free-lance work, he became the principal bassoonist with the Norfolk Symphony, which later became the Virginia Symphony Orchestra.  
In 1975, Kester joined the faculty at William & Mary. During his time at the College, he led student ensembles, taught woodwind instruments and served on the Applied Music Advisory Committee.
John Paul Lindberg, instructor of percussion at William & Mary, said that Kester had "a profound effect on all who knew him."
"He was a gifted artist, a hilarious raconteur and a kind hearted, gentle spirit that one finds all to seldom, if ever, as we travel through life," said Lindberg. "His sense of right from wrong in his daily life and his dedication to arts education at The College of William and Mary will be sorely missed. I knew Burt for close to forty years and he became the best friend I will ever have on earth. His passing was not totally unexpected but no one could prepare for the loss of such a larger than life individual."
The William and Mary Symphony Orchestra had originally planned on honoring Kester during their spring concert on the occasion of his retirement from the College, which was planned for the end of the semester.
"Burt was always a strong supporter of the W&M Symphony Orchestra, attending every concert, and if not, a dress rehearsal, giving me feedback in the hallway, and offering to work on his bassoonists' orchestra parts in their private lessons," said Director of Orchestras Akiko Fujimoto. "Being a seasoned orchestral player himself, he had a lot of passion and wisdom to share."
Tomorrow night's performance will now be dedicated to Kester in memoriam.  
"We are very grateful that the William and Mary Symphony has chosen to honor Burt by dedicating their Spring 2009 concert to his memory," said Payne. "Burt was a die-hard supporter of the orchestra who regularly attended all its concerts. I can think of no more fitting context in which to celebrate his life in the College."