William & Mary sweeps CAA cross country scholar-athlete of the year awards
The William and Mary cross country teams swept both Scholar-Athlete of the Year awards in 2009, the Colonial Athletic Association announced Thursday.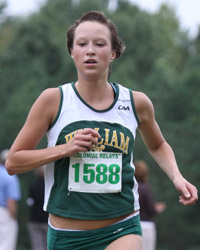 Senior Emily Anderson (Golf, Ill.) was named the women's Scholar-Athlete of the Year for the second year in a row, while junior Brian Sklodowski (Newark, Del.) won his first award for the men. The two awards were announced along with the Scholar-Athlete winners from the CAA's four other fall championship sports (field hockey, volleyball, men's and women's soccer), and all six athletes are eligible to be chosen as the overall Scholar-Athlete of the Year in July.
Anderson, who was named Athlete of the Year on Tuesday, won her second consecutive individual CAA title this year, running the second-fastest time in conference history. A three-time All-American in track, she helped lead the Tribe to record-tying team finishes at the Southeast Regional and the ECAC Championships, finishing 17th and fifth, respectively, to earn all-region and All-East accolades. Anderson is the third Tribe runner to win back-to-back Scholar-Athlete awards, joining Ali Henderson '04 and Meghan Bishop '07.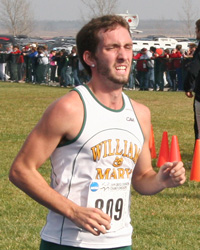 Sklodowski won his first conference title in either cross country or track this fall, leading W&M to its 10th consecutive CAA crown. He was also part of the Southeast Region title-winning team with his 20th-place finish, earning all-region honors. At the NCAA Championships, Sklodowski was the sixth runner across the line for the Tribe to help gain a fifth-place team finish, the best showing for the College at the national meet since 1973.
The CAA's Scholar-Athlete of the Year program began in 2002-03, and recognizes an outstanding athlete in 21 of the conference's 23 sports (excepting football, which began in 2007, and women's rowing, which began in 2009). As well, each year one male and one female athlete from the sport award-winners is selected as the overall Scholar-Athlete of the Year. Since the program's inception, William and Mary has won more Scholar-Athlete awards than any other school with 33 (UNCW is next, with 20), and has had two or more winners every year, a feat no other school can claim. Three Tribe men have been named as the overall Scholar-Athlete of the Year: basketball standout Adam Hess '04, harrier Keith Bechtol '07, and soccer player Ryan Overdevest '08.