Washington Monthly ranks W&M eighth nationally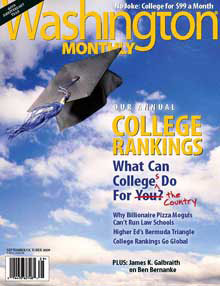 Another national ranking. Another good showing for the nation's second-oldest college.
According to the latest college guide by Washington Monthly - a listing that evaluates schools on "the contributions their students make to society," William & Mary ranked eighth. That's up from 23rd in the magazine's  most recent ranking in 2007. Washington Monthly, based in the nation's capital, ranks schools based on three main categories - community service, research and social mobility.
The news comes on the heels of a series of recent national rankings that recognized the College. In last month's annual rankings by
U.S. News & World Report
, William & Mary ranked 33rd among all national universities and its sixth-best public. The College was also tied for sixth (with Brown University) in a new listing by U.S. News for the "Best Colleges for Undergraduate Teaching." In the college guide, "America's Best Colleges,"
Forbes.com
ranks William & Mary the fourth-highest public university - and its top non-military public university. Forbes ranked William & Mary 48th overall and 33rd among its list of "Best Value," making it one of only five schools to make the top 50 on both lists.
William & Mary also fared well in other rankings this summer. In its latest survey of undergraduates - released in July -- the
Princeton Review
lists the College seventh in the category of "Best College Library," eighth in the category of "Professors Get High Marks," and 14th in for "Happiest Students." The College's "green rating" also improved, increasing from a score of 84 last year to 90 (on a scale from 60-99). In addition to the green rating, William & Mary's academic and admissions scores improved one point each to 92 and 98, respectively.
In the Washington Monthly rating, the magazine looks at a number of factors, including percentage of graduates who go on to serve in the Peace Corps; student participation in the ROTC; faculty awards and honors; annual research spending; the recruitment and graduation of low-income students; and the number of students who receive their bachelor's degree and go on to earn a Ph.D.
The magazine's top-rated school is the University of California-Berkeley and nine of the magazine's top 10 were public universities . At eighth, William & Mary is the highest ranked Virginia school. The University of Virginia ranked 26th and Virginia Tech was listed 61st.