Vernon Hurte recognized as a top 'inspirer'
Vernon Hurte, director of William & Mary's Center for Student Diversity, has been named as one of InSpire Magazine's "Top 40 Inspirers in America."
"I was humbled by this honor," said Hurte. "I went into higher education to inspire and empower students to reach their greatest potential, so to be recognized as an inspirer certainly means more to me than anyone could ever imagine."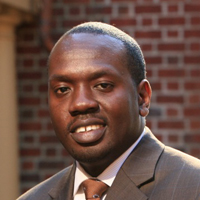 Hurte and the other honorees will be recognized in the magazine's next issue in December. According to its Web site, InSpire Magazine is a nationally distributed publication that seeks to "create and maintain a magazine designed to promote growth and development for individuals who are committed to enhancing their lives and the lives of others."
According to a congratulatory letter from the magazine, Hurte was selected from thousands of others because of his contributions to both his profession and his community.
"You should be commended for the job that you have done to not only bring honor to yourself, but to your family and your organization as well," the letter said. "We are very proud of you and wish the very best."
Hurte has worked at William & Mary since becoming the assistant director of multicultural student affairs in 2004. In 2008, Hurte became the interim director of multicultural student affairs, and he assumed his current position in 2009.
A native of Richmond, Va., Hurte completed his undergraduate work in psychology at Bowie State University in 2001, and he received his PhD in educational psychology from the University of Tennessee in 2004. In May 2009, he earned a master's degree in divinity from Virginia Union University. Along with his work at William & Mary, Hurte serves as an associate minister at Williamsburg's New Zion Baptist Church.