Tribe getting their kicks from Pate
Before coming to the College of William & Mary, Brian Pate kicked more field goals in four seasons at Massaponax High than anyone in the history of the Fredericksburg, Va., school.
Since joining the Tribe, Pate has attempted 59 field goals and converted 40, the type of numbers that earned him All-Colonial Athletic Association honors in 2008.
Yet something important was missing from his career.
He never had kicked a game-winning field goal.
To the joy of W&M fans everywhere, that changed on Nov. 14 against New Hampshire. Pate's 37-yard boot with 2:54 to play at Zable Stadium gave the fifth-ranked Tribe a 20-17 victory over the seventh-ranked Wildcats. The triumph drove W&M's record to 9-1 for the first time since 1947, and set up Saturday's "High Noon" contest at defending national champion Richmond, fourth-ranked and also 9-1.
The winner earns at least a share of the CAA title, depending how frontrunner Villanova fares against Delaware. Villanova will win tie-breakers with the Tribe and the Spiders by virtue of head-to-head victories.
But a Tribe victory and a Villanova loss would give W&M the crown, an automatic bid to the
NCAA playoffs
, one of the top four seeds and possibly homefield advantage for every game until the championship in Chattanooga, Tenn., in December.
Bottom line: Pate picked a good time to notch his first game-winner.
"I'm going on seven years kicking and when you've kicked for that long you'd think it would have come before then," he said recently. "Just looking at the league, it seems that there are one or two a week. The odds are I would have had to have been in there once or twice."
Pate doesn't automatically classify last week's kick as his personal highlight. The 24-yarder he converted against Virginia with a couple of minutes left in the season-opener to put the Tribe up by two scores and seal the verdict "was pretty memorable and felt pretty good, too."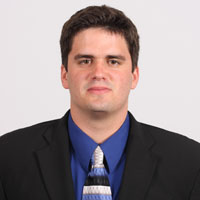 Pate graduated from the College last spring, but had a year of eligibility remaining and is using it while he completes his masters degree in accounting. Graduate school and football aren't necessarily compatible, not without some give and take on both sides.
A couple of days a week, Pate leaves his teammates on the practice field at 5:30 and heads to a 6 p.m. class. On Thursdays, he completes his "specialist" drills and game-situation simulations early then races to Tidewater Community College in Virginia Beach for a three-hour cost accounting class.
On other days, he and the team's long snapper, holder and punter are on the field working 45 minutes before everyone else.
"The biggest thing is that the school and the football program have been extremely flexible," Pate said. "They both realize the importance of the other. It's a perfect balance.
"Because the cost accounting class is right in the middle of football practice, I wouldn't have been able to make any practice and there's no way that would work out. So they allowed me to take this class at the community college and transfer the credits."
In addition, Pate, who sports a grade-point average comfortably above 3.0, is taking a slightly lighter load of 12 credit hours this fall, but will make up for it with 18 in the spring.
Academics isn't the only area where W&M coaches have exhibited uncommon flexibility.
Pate began playing soccer at age 5 and was a star high school player before joining W&M football as a "preferred walk-on," or non-scholarship player. After freshman year, a close friend and former soccer teammate then attending another college died in an auto accident. That summer, Pate formed a team of their old buddies and became so enraptured with the sport again that he quit football to try out for Tribe soccer.
"I'd say that the reason I was playing that summer gave me a misguided view of why I liked soccer," Pate admitted. "I came back, but it wasn't the same, especially after having taken a year off. My conditioning wasn't what I needed to make the team."
By then, coach Jimmye Laycock had found another kicker. Pate couldn't stay away from the games, but couldn't get closer to them than the bleachers.
"It was a pretty rough time; you're talking about 15 years of playing sports almost every day of your life," he said. "In high school, I was on two soccer teams and the football team in the same season. Going from that to nothing, not having that team aspect in my life – and no matter what happens, it all comes down to the team, and having one goal -- was one of the hardest things I've ever done. It hurt so much watching, knowing that I could be out there playing with the guys.
"I had to get it back, and I was really fortunate that Coach (Laycock) allowed me to come back on the team and give it another shot."
Pate has seemingly repaid Laycock. In addition to being a conference all-academic selection in 2008, Pate was named the all-CAA kicker.
"He's experienced, been there and done that," Laycock said. "He's kicked a lot for us. He's got good range and is a very good kicker. Sometimes, you miss some, but he's been in pressure situations and handled himself well. He lined up for that one on Saturday and I don't think anybody had much of a doubt that he'd drill it right through."
Although the 2009 Tribe may be known more for its tenacious defense than its predecessors, the Tribe offense has enabled Pate to attempt a school-record 27 field goals. He has converted 18. Two of his misses have come from 47 yards, another three from beyond the 40.
"I'd call my season bittersweet," he said. "All anyone wants to do is contribute to the team. When I miss a field goal, there goes my opportunity to do that. Than again, the end ambition is to win, and we're definitely doing that.
"So I'd say I'm having a bittersweet season so far -- with a lot more sweet than bitter."