Tribe blanks Weber State, 38-0
Sophomore linebacker Jake Trantin and redshirt freshman cornerback B.W. Webb returned a pair of first-half interceptions for touchdowns to help the sixth-ranked William and Mary football team defeat No. 15/18 Weber State, 38-0, in the opening round of the NCAA Playoffs on Saturday afternoon at Zable Stadium. With the win, W&M advances to the NCAA Quarterfinals for the fourth time in school history and will play Saturday at Southern Illinois. The game will be at noon in McAndrew Stadium in Carbondale, Ill.
The victory over Weber State secured the program's fourth 10-win season and extended its winning streak against non-conference FCS schools to 16 games. Additionally, the triumph marked head coach Jimmye Laycock's 199th career win.  
En route to posting its second shutout of the season, the College's (10-2) defense registered a season-high four interceptions and limited Weber State (7-5) to just 161 yards of total offense. The Wildcats entered the contest with one of the nation's top-ranked offensive units and was averaging more than 30 points per game and 420 yards of total offense per game. Additionally, W&M held WSU to -6 yards rushing, which marked the third time this season that the Tribe has held an opponent to negative yards rushing.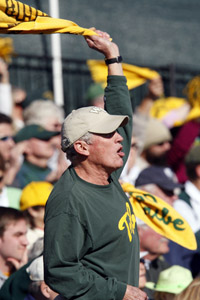 While the defensive unit posted tremendous numbers, W&M's offense was also impressive and piled up 408 yards of total offense. Individually, sophomore running back Jonathan Grimes established a W&M playoff record with 139 rushing yards, as he became the 12th player in school history to rush for more than 1,000 yards in a season. Grimes also hauled four catches for a game-high 66 yards en route to totaling a season-best 226 all-purpose yards.
Senior quarterback R.J. Archer completed 15-of-28 passes for 187 yards and rushed for a pair of touchdowns.
Weber State had a pair of scoring opportunities in the first quarter, but place-kicker Mike Snoy missed field goal attempts of 47 and 50 yards.
With the score still knotted at zero midway through the second quarter, Trantin picked off WSU quarterback Cameron Higgins at the W&M 40 in front of the Tribe sideline and returned it 60 yards for a touchdown with 9:05 showing.
A 27-yard field goal by senior place-kicker Brian Pate with 0:36 remaining in the first half capped off a 13-play, 72-yard drive and gave W&M a 10-0 lead.
Just moments later, the Tribe found the end zone via an interception again when Webb picked off Higgins and raced 58 yards down the Tribe sideline for a score with 0:12 left in the half. It was Webb's second pick-six this season and marked the first time since 2005 (Villanova) that the College returned two interceptions for touchdowns in the same game.
Although WSU outgained W&M, 141-106, and controlled the time of possession, 18:25-11:35, in the opening half, the Tribe held the Wildcats to 0 yards rushing on 11 carries. In addition to the pair of pick-sixes, Weber State was also limited by committing eight penalties for 60 yards.
W&M extended its advantage to 24-0 with a 10-play, 73-yard touchdown drive to open the second half. Archer punctuated the scoring drive with a 1-yard QB sneak that found the end zone. Grimes registered five carries for 33 yards on the drive while senior wideout Eric Robertson hauled in a 27-yard catch that put W&M in the Red Zone.
Although the Wildcats drove into W&M territory late in third quarter, Webb came up with his second interception of the afternoon to halt the drive. With the pick, Webb increased his season total to seven - the fifth most in school history and the most by a freshman.
Archer's second rushing touchdown of the afternoon, a 6-yard scamper with 4:21 remaining, pushed the lead to 31-0. The senior quarterback completed 3-of-3 passes for 33 yards and rushed for 14 yards on the 11-play, 67-yard drive that lasted 6:29.
Following a Weber State fumble deep in W&M territory, junior running back Terrence Riggins provided the final score of the afternoon with a 23-yard touchdown run with 3:01 left.
En route to preserving the shutout, the College's defense was outstanding in the second half and allowed just 20 yards of total offense and two first downs. Additionally, W&M dominated the time of possession after halftime, 22:33-7:27.