Senior named Rhodes Scholar, sixth in College's history
Senior Kira Allmann is one of 32 American Rhodes Scholars for 2010, the Rhodes Trust announced Nov. 22. The Rhodes Scholarships are one of the world's highest academic honors.

Rhodes Scholars attend Oxford University in England. Allmann will begin her studies there in October of next year. She plans to pursue a Masters of Philosophy in modern Middle Eastern studies.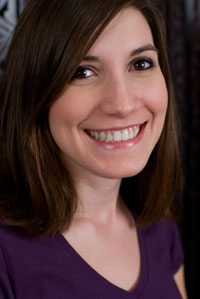 Allmann, a government and linguistics major, is just the sixth W&M student to receive this honor. She is among just 424 women awarded the scholarship since the first woman was selected in 1976.

"The competition for a Rhodes is simply extraordinary," said William & Mary President Taylor Reveley.  "Those of us at William & Mary are enormously proud of Kira.  It is grand to see her accomplishments recognized in this marvelous manner."

The Rhodes Scholarships were created in 1902 by the will of Cecil Rhodes, British philanthropist and African colonial pioneer. The awards are granted based on "high academic achievement, integrity of character, a spirit of unselfishness, respect for others, potential for leadership, and physical vigor," said Elliot F. Gerson, American Secretary of the Rhodes Trust in a Nov. 22 press statement.

Allmann's academic achievements are numerous. Since her freshman year, she has been a James Monroe Scholar at William & Mary. Monroe Scholars are the most academically distinguished undergraduates at the College.
"Kira Allmann is, quite simply, the smartest student I have ever taught at William and Mary," said Mike Tierney, director of the Institute for the Theory and Practice of International Relations and associate professor of government. "In fact, as I often tell my faculty colleagues, Kira is the smartest person in the entire Government Department -- faculty and students included. But raw candlepower is often over-rated. Much more importantly, Kira is inquisitive, patient, and generous to a fault. And her smile lights up the room. I could not be more pleased."
Allmann has also studied Arabic at the Al-Akhawayn University in Morocco, architecture and art history at the University of St. Andrews and had three of her research papers published as an undergraduate in William and Mary's student-run and peer-reviewed Monitor Journal of International Studies. The summer after her junior year, Allmann interned for the U.S. State Department at the U.S. Mission to NATO in Brussels.
"Kira Allmann's selection is totally thrilling and yet totally unsurprising to those of us who have taught or worked with her," said John McGlennon, professor of government and department chair.  "Kira is that rare individual who combines intellect with practicality, who can relate across the spectrum of personalities and positions and who makes an impact wherever she becomes involved.  Here in the Government Department, we're excited to anticipate her next successes."
On campus, she is also involved with numerous organizations and serves as president of several honor societies. Allmann, a Williamsburg resident and Lafayette High School graduate, is also engaged in the Williamsburg community substitute teaching in the Williamsburg-James City County public schools.
"Kira is truly an exemplary model of both a citizen and a scholar," noted Anne Charity Hudley, assistant professor of English and director of the linguistics laboratory. She is an intellectual risk-taker who approaches both her scholarship and service with great passion and interest, ­ characteristics that will serve her well as a Rhodes Scholar."
Allmann and her fellow 2010 Rhodes Scholars were selected from among 805 nominees endorsed by 326 different colleges and universities across the United States. Scholars are also selected, the press release noted, from Australia, Bermuda, Canada, the nations of the Commonwealth Caribbean, Germany, Hong Kong, India, Jamaica, Kenya, New Zealand, Pakistan, Southern Africa (South Africa, plus Botswana, Lesotho, Malawi, Namibia and Swaziland), Zambia, and Zimbabwe. Approximately 80 scholars are selected worldwide each year, including several non-U.S. scholars who have attended American colleges and universities.

"This is a tremendous honor," said Allmann of the award. "It is both inspiring and humbling to become a member of such a distinguished group of scholars. I'm thrilled to have this incredible opportunity to continue to grow academically and personally."

Through the Rhodes Trust, the scholarship includes all college and university fees, provides a stipend to cover necessary expenses while in residence in Oxford and transportation to and from England.

William & Mary last sent students to Oxford on Rhodes Scholarship in 1999 when two members of the Tribe were selected for the honor, Paul Larsen '99 and Eileen Cardillo '99. Other William & Mary Rhodes Scholars include Hans Ackerman '97, Andrew Zawacki '94, and J.R. Deshazo '89.

"I owe so much to William and Mary.," said Allmann. "I have been supported, encouraged, and motivated by the professors and students I have had the privilege to meet at the College. I am so proud to be part of the Tribe, and I'm immensely grateful for the impact this community has had on me."