Resilient Tribe prepares for playoff test
William and Mary's invitation to host a first-round NCAA playoff game Saturday at 1 p.m. against Weber State did not happen overnight, or come out of the blue, or serve as a surprise to anyone involved with the College's football team.

It came at the end of a process, sometimes a painful one.

"My first two years here we took our bumps and bruises as a team and as a defensive unit," senior All-American defensive end Adrian Tracy recalled. "Specifically, teams were running at will against us, passing as well. It was frustrating.

"Last year, things began to change. We realized that we had talent and were capable of doing things. You couple that physical ability with great mindset and great focus and determination, and we saw the results. We were a pretty good defense last year too."

That fact was lost on most fans in the wake of a 7-4 record that included two late-season losses that kept the Tribe out of the playoffs. But it wasn't lost or forgotten by the returning players, particularly when they watched Colonial Athletic Association rival Richmond work its way to the national championship.

"You look back and you say, 'That could have been us,' " quarterback R.J. Archer said. "And we made it a point that this year we would control our own destiny. We wanted to leave no doubt for anyone that we were getting into the playoffs."

Tracy recalled that the seniors never let the underclassmen forget that the championship trophy nestled in a case at Richmond might have been the Tribe's had they not been the odd-team out.

"It was definitely a motivating factor in spring ball and summer conditioning," he said. "When guys were feeling a little tired and winded, we were like, 'Think about what happened to Richmond and what we are capable of doing.' "

Archer, who spent two seasons at receiver before changing back to quarterback, admitted that it was difficult to come into a program that in 2004 advanced to the national semifinals and not build on that remarkable accomplishment.

"It was definitely tough to see the team down for a couple of years," he said. "You know, you're goal each year is to get into the field of 16. It's fun and exciting to finally get in."

A season-opening victory over Virginia set the stage. Subsequent victories over James Madison and New Hampshire – and six others in a 9-2 season -- only reinforced the notion that this team was indeed ready for prime time.

A heart-breaking 13-10 hiccup in the season finale against Richmond was painful and frustrating, but it didn't stop the Tribe from achieving their ultimate goal.

"We were bummed coming home on Saturday; you wouldn't be a competitor if you weren't upset," Archer said. "You get mad about it, and then you turn it around and start focusing on what's ahead. It was nice to be on the other side of things this year. We took care of business early in the season and I don't think we're going to have a problem getting people's heads turned around. Our spirits are high."

Weber State presents some unique problems for a Tribe defense that finished the season ranked third nationally.

Junior quarterback Carmen Higgins has passed for 3,154 yards and 30 touchdowns this season. Higgins throws almost without regard for the consequences, tossing a league-high 16 interceptions. Nonetheless, in 10 of 11 games this season, he attempted at least 30 passes.

Higgins primary target is speedy senior wideout Tim Toone, first in the Big Sky with 77 receptions and second in both receiving yards (1,058) and touchdown receptions (10).

There is balance in the backfield in the form of senior tailback Trevyn Smith. He rushed for 979 yards and seven touchdowns this season, and will graduate as one of the most productive players in Big Sky Conference history with 6,376 career yards.

"They've got good size, and they are fast at the skill positions," coach Jimmye Laycock said. "Higgins is a big, strong pocket-type passer, who moves pretty well. He's got the arm to make all the throws.
"Toone can really go; he's a very skilled player. Not only is he a great punt returner (he leads the nation), they seem to find a variety of ways to get the ball in his hands."
The Tribe practiced at their usual time on Monday and were scheduled for the same on Tuesday, the final day of class before the Thanksgiving holiday. Laycock was moving practice up on Wednesday and Thursday then returning to the regular plan for Friday.

Those were the only changes the long-time coach anticipated making.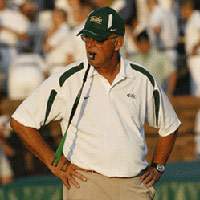 "We don't look at this as all of a sudden we're in the playoffs so now we've got to change everything we do," Laycock said. "It's a big game on the schedule, but we use the same approach we've used all year.

"We'll look at our mistakes, and attempt to be a better team this week than we were last week."

Laycock is understandably grateful for two things in view of the loss at Richmond: that the Tribe secured a playoff game, and that the NCAA saw fit to have it played at Zable Stadium.

"Saturday was a tough way to lose a game," the coach said, referring to the Spiders' 48-yard field goal on the game's last play. "Had it been the last game of the season, if that had concluded the season, that would have been very, very tough.

"Instead, it's a new season, a new day now."

Add to that the benefit of waking up Saturday with only a short trip to Zable.

"We've got a very, very loyal fan base that has been very supportive over the years," Laycock said, "I know there are lots of people who are very excited to be able to come to a game here.

"While a home game is better than going on the road, you've still got to play the game. The fact that it's here doesn't mean anything if we don't play the way we're capable."

Tracy agrees.

"The senior captains have stressed all year that you're not playing against names on paper; that you have to go out onto the field and perform, every week," he said. "We've done that all year and it's paid off pretty well."
Note: To allow all on-campus residents the opportunity to attend Saturday's playoff game, the residence halls will reopen at 11 a.m. on Saturday, November 28. Residents are asked to be especially careful and to ensure that only residents and guests are granted access to the residence halls.