Rebecca Parker to serve as baccalaureate speaker
Rebecca Parker, president of the Starr King School for the Ministry, will serve as the speaker at William & Mary's baccalaureate service Saturday, May 16. The service will take place at 9:30 a.m. in William and Mary Hall.
Parker is the first woman to serve as the permanent head of an accredited theological school. The Starr King School is the Unitarian Universalist school at the Graduate Theological Union in Berkeley, Calif.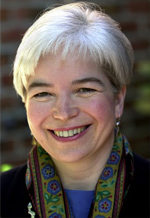 Parker has served as the school's president since 1990 and as a professor of theology there since 2001. Previously, she served as a parish minister in the Pacific Northwest and a part-time teacher at Northwest Theological Union.
She has co-authored two books, including the recent Saving Paradise: How Christianity Traded Love for This World for Crucifixion and Empire (Beacon Press, 2008), which was hailed as one of the best books on religion in 2008. She also wrote Blessing the World: What Can Save Us Now, a collection of essays. Parker has also been published in various journals and magazines, and she has contributed chapters to several books.
Parker has served on several boards and committees, including the United Methodist Study Committee on Homosexuality (1988-1992), the board of the Center for the Prevention of Sexual Abuse and Domestic Violence (now the Faith Trust Institute), the United Methodist General Board of Discipleship, and the Executive Committee of the Association of Theological Schools. She has also chaired the Advisory Committee on Women in Leadership for the Association of Theological Schools, been convener of the Council of Presidents at the Graduate Theological union and served on the Board of Trustees of the Graduate Theological Union. Parker currently serves on the board of Faith Voices for the Common Good, an interfaith think tank.
Parker received her undergraduate degree from the University of Puget Sound in 1975. She received her doctor of ministry and the president's award for academic excellence from Claremont School of Theology in 1979.