Laycock appears live Wednesday on ESPN2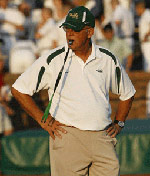 William & Mary football head coach Jimmye Laycock appeared live on ESPN2's "First Take" program Wednesday to discuss Super Bowl coach Mike Tomlin.
During a satelite interview with ESPN's Sage Steele, the longtime Tribe football coach discussed Tomlin's time as an undergraduate and football player at the nation's second oldest college. He also discussed Tomlin's continued involvement in his alma mater. Tomlin served as the keynote speaker during William & Mary's 2008 Commencement Exercises. He also returned last June to help dedicate the new Jimmye Laycock Football Center.
"(Mike Tomlin) has done a great deal for this school," Laycock said in the interview, which lasted nearly five minutes and was replayed again Wednesday afternoon. "Has been back a lot to the university and we're very proud of what he's done"

Laycock has been popular news source in the days leading up to this Sunday's Super Bowl XLIII matchup between the Pittsburgh Steelers and Arizona Cardinals. Steelers Head Coach Mike Tomlin is well-known to Tribe faithful. A member of the Class of 1995, Tomlin played for Coach Laycock when he was a three-time starter at wide receiver for William & Mary between 1990-94, Tomlin finished his Tribe football career with 101 receptions for 2,046 yards and a school-record 20 touchdown receptions. A first-team All-Yankee Conference selection in 1994, Tomlin established a school record that year with a 20.2 yards-per-catch average.

Tomlin is the youngest head coach to ever lead his team to the Super Bowl.
The morning sports show, formerly "Cold Pizza," airs live Monday-Friday from 10 a.m. to noon on ESPN2. The program is also re-broadcast on ESPN2 from noon to 2 p.m. First Take is hosted by Jay Crawford and Dana Jacobson, along side Skip Bayless and guests and regular contributors from the sports world.