Hobson to appear in PBS documentary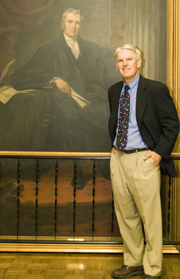 Charles Hobson of the Omohundro Institute of Early American History and Culture, a joint institute of the College and the Colonial Williamsburg Foundation, is among the historians interviewed in an hour-long documentary titled "Judicial Independence in the New World," which explores the early history of the court system. The program will air on Thursday, Feb. 26, at 9 p.m. on Richmond's PBS station (WCVE).
According to Cox Cable's website, in Williamsburg, James City County, Upper York County and Gloucester WCVE is broadcast on channel six.
Hobson devoted 26 years of his career to editing the papers of John Marshall and is the author of "The Great Chief Justice: John Marshall and the Rule of Law." He currently serves as editor of the law papers of St. George Tucker.