Governor appoints W&M alumni to Board of Visitors
William & Mary alumni Dennis H. Liberson '78 and Michael Tang '76 have been appointed to William & Mary's Board of Visitors, Gov. Timothy M. Kaine announced today. In addition, Kaine reappointed John Charles Thomas and Jeffrey B. Trammell '76 to second terms on the College's governing body. The two new Board members replace Michael K. Powell '85, D.P.S '02 and Barbara B. Ukrop '61, who both stepped down from the Board of Visitors this summer following two terms. Powell also served three years as rector of the College.
"We are absolutely delighted that Messrs. Liberson and Tang have joined our Board.  As alumni of the College who have long been active in its life, Dennis and Michael bring a powerful sense of William & Mary and its potential. They also bring practical wisdom rooted in their significant experience in business and in the not-for-profit world," said William & Mary President Taylor Reveley. "It is wonderful as well that John Charles Thomas and Jeff Trammel have second terms on the Board. As before, they are real forces for the good of the university. We are sad, of course, to see Michael Powell and Bobbie Ukrop leave the Board. Their devotion to the university and service to it are the stuff of legend."
The governor's appointments were also applauded by the William & Mary Board.
 "We are pleased to be advised that Gov. Kaine reappointed John Charles Thomas and Jeff Trammell for a second term on the Board of Visitors," said Rector Henry C. Wolf. "And, it is most gratifying to have Dennis Liberson and Michael Tang, both of whom are alumni of the College, joining the Board and continuing their service to the College in a new and important role." He added, "The entire Board extends its appreciation and deep gratitude to former Rector Michael Powell and Bobbie Ukrop, whose tireless efforts on behalf of William and Mary can never be underestimated."
Liberson, of Great Falls, Va., graduated from William & Mary with a bachelor's degree in economics and government. After receiving his master's degree in labor and industrial relations from Michigan State University, Liberson went on to a successful, 23-year career in human resources, serving most recently as executive vice president of human resources and corporate real estate for Capital One. After retiring from the corporate world, Liberson launched a new company, Bluewildlife Photography, which is devoted to underwater photography and wildlife and environmental conservation issues. Through Bluewildlife, he travels to oceans all over the world in search of marine-life subjects, including diving with great white sharks in South Africa, Australia and Guadalupe, Mexico. His underwater images have been featured on websites and magazines, including Nature's Best, National Wildlife and Scuba Diving.
Liberson also stays connected with his alma mater. Last year, his photography was showcased in an exhibit at William & Mary's Sadler Center. He currently serves on the Virginia Institute of Marine Science Council and has been a generous supporter of the College's Environmental Science and Policy program and campus sustainability efforts.
Tang, who lives in Chicago, received his bachelor's degree in economics from the College. He comes to the William & Mary Board of Visitors with a tremendous amount of business experience. He is chief executive officer of National Material and vice chairman of Tang Industries. Both are holding companies involved in various businesses, including steel, aluminum, automotive, aerospace, pharmaceuticals, office furniture and wind energy. Previously, Tang practiced in a private law firm in Phoenix and with the Navajo Tribe.
Tang is also an involved alumnus of William & Mary. He previously served on the boards of both the William & Mary Foundation and the Mason School of Business Foundation. He is currently a member of the Board of Trustees of the University of Chicago Medical Center and the Field Museum of Chicago, and is a member of the Advisory Board for RAND's Center for Asia Pacific Policy, as well as serving on the executive committee of the Chicago Community Trust. He previously has served on the board of WBEZ, Chicago's public radio station. In addition to his bachelor's degree from William & Mary, Tang received his law degree from Georgetown University Law Center.
Thomas is a partner at Hunton & Williams law firm in Richmond where he is chief of the appellate practice group and also handles general litigation, mediation and arbitration. In 1983, Thomas was appointed to the Supreme Court of Virginia where he served for seven years.
He is a member of the Court of Arbitration for Sport in Lausanne, Switzerland, a trustee of the Thomas Jefferson Foundation at Monticello and vice chair of the Virginia Capitol Foundation. Thomas, who received his bachelor's degree with distinction and his law degree from the University of Virginia, also lectures at the U.S. Military Academy at West Point.
Thomas, who served as a member of the Commission on the Tercentenary Observance of the College of William and Mary, was first appointed to the Board of Visitors in 2006. He currently serves as chair of the Committee on Student Affairs and is also a member of Committee on Buildings and Grounds and the Committee on Administration.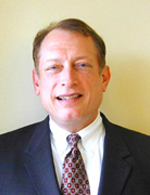 Trammell is president and founder of Trammell & Company, a consulting firm in Washington, D.C., which advises corporations on external affairs. He previously served as managing director of Hill & Knowlton, a worldwide communications firm and was a senior advisor to former Vice President Al Gore during the 2000 presidential campaign. He has served on a number of boards, including that of the Human Rights Campaign and an advisory board to the U.S. Holocaust Memorial Museum. Trammell has also been an active alumnus. Trammell, who received his bachelor's degree in history from William & Mary and his law degree from Florida State University, was the founding chair and currently serves as a board member of the Thomas Jefferson Public Policy Program. He is also a former board member of the Greater Washington, D.C., chapter of the William & Mary Alumni Association.
Trammell was appointed to the William & Mary Board of Visitors in 2005. He currently serves as chair of the Committee on Strategic Initiatives and is a member of the Executive Committee, the Committee on Administration and the Richard Bland College Committee.