Five Tribe lax players earn all-conference honors
After posting outstanding seasons and helping No. 20 William and Mary claim its second consecutive regular season league title, five Tribe lacrosse players were honored with all-conference awards at the 2009 Colonial Athletic Association Awards Banquet on Wednesday evening. Sophomores Grace Golden and Ashley Holofcener garnered first-team distinction, while classmates Sarah Jonson and Molly Wannen were chosen to the second team. Freshman Sarah Mulvey was named to the All-Rookie Team. All of the teams were selected by a vote of the league's eight head coaches.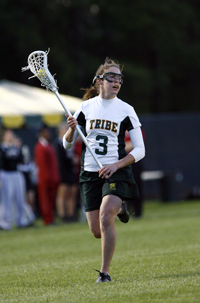 Golden earned first-team all-conference honors for the second consecutive season after leading the team and ranking fourth in the CAA with 42 goals. The impressive total currently ranks 11th on the College's single-season list. A two-time CAA Player of the Week honoree this year, the midfielder also ranked among the league's top 10 with 54 points, while adding 30 ground balls, 22 draw controls and 16 caused turnovers. The Manhasset, N.Y., native has played particularly well during the Tribe's recent five-game winning streak, totaling 23 points on 19 goals and four assists to go with 15 ground balls, nine draw controls and nine caused turnovers.
An All-Rookie Team selection last season, Holofcener garnered first-team all-league distinction this year after leading W&M and ranking fourth in the CAA with 61 points. The impressive figure ranks seventh on the program's single-season list. The attacker has also recorded 27 assists in '09, which ranks third in the conference, 22nd in the nation and second on the program's single-season list. In addition to her impressive offensive stats, the Baltimore, Md., native has registered 20 ground balls, 16 draw controls and five caused turnovers.
One of the nation's top defensive players this season, Jonson was named to the all-conference second team after leading the CAA and ranking ninth in the country with 2.25 caused turnovers per game. With 36 caused turnovers thus far in '09, the Dallas, Texas, native needs just four more to break the program's single-season school record. Jonson's impressive stat line also includes 41 ground balls and 38 draw controls, figures that rank second on the team. She has also provided contributions offensively with 11 points on seven goals and four assists.
An outstanding multi-dimensional player, Wannen garnered the first all-conference honor of her career with a second-team selection. In addition to leading the team and ranking second in the CAA with 40 draw controls, the Silver Spring, Md., native also totaled 30 points on 25 goals and five assists to go with 23 ground balls and 12 caused turnovers. The midfielder also recorded one of the squad's best shooting percentages with a .543 mark. While she performed well throughout the entire year, many of her best efforts came during the conference portion of the slate, as she totaled 14 goals, three assists, 14 ground balls and 16 draw controls.
Mulvey started all 16 games for W&M this season and established herself as one of the conference's top freshmen en route to earning All-Rookie Team honors. An integral part of the Tribe's defensive unit, the Milton, Mass., native has contributed a number of key caused turnovers in critical situations. She also finished the regular season with 25 ground balls, eight draw controls and 13 caused turnovers.
The top-seeded Tribe will begin its quest for the CAA Championship when it hosts fourth-seeded Towson at Albert-Daly Field on Thursday at 5 p.m. Second-seeded Delaware will square off against third-seeded Old Dominion in the other semifinal contest at 7:30 p.m.
2009 ALL-CAA WOMEN'S LACROSSE TEAM
(selected by CAA lacrosse coaches)
FIRST TEAM
Player, School, Pos.
Ashley Holofcener, William & Mary, A
Ashley Kellogg, Old Dominion, A
Meggie McNamara, Towson, A
Corrine Gandolfi, Hofstra*, MF
Grace Golden, William & Mary*, MF
Kim Griffin, James Madison#, MF
Kelly Kimener, Old Dominion, MF
Nikki Marcinik, Towson, MF
Maggie Bridges, George Mason*, D
Julie Ondrako, Towson*, D
Erin Zimmerman, Delaware, D
Jessica Cerveny, Delaware*, GK
SECOND TEAM
Player, School, Pos.
Jaime Dardine, James Madison, A
Liz Falco, Hofstra, A
Madalyn Jamison, George Mason, A
Katie Lawson, Drexel, MF
Emily Schaknowski, Delaware*, MF
Deb Sloan, Delaware, MF
Molly Wannen, William & Mary, MF
Britt Woodfield, Towson#, MF
Lindsey Belle, Old Dominion, D
Sarah Jonson, William & Mary, D
Alysse Ruszkowski, Hofstra*, D
Sarah Geary, Old Dominion, GK
2009 CAA PLAYER OF THE YEAR: Kelly Kimener, Old Dominion
2009 CAA DEFENSIVE PLAYER OF THE YEAR: Julie Ondrako, Towson
2009 CAA ROOKIE OF THE YEAR: Sarah Geary, Old Dominion
2009 CAA COACH OF THE YEAR: Sue Stahl, Old Dominion
* - 1st team All-CAA in 2008
# - 2nd team All-CAA in 2008
2009 CAA WOMEN'S LACROSSE ALL-ROOKIE TEAM
(selected by CAA lacrosse coaches)
Player, School, Pos.
Stephanie Allen, Delaware, MF
Lisa Bernardini, Old Dominion, MF
Cally Chakrian, James Madison, D
Emily Ellisen, George Mason, MF
Sarah Geary, Old Dominion, GK
Ashley Kimener, James Madison, MF
Sarah Mulvey, William & Mary, D
Mary Teeters, Towson, GK
Charlotte Wood, Drexel, A
Monica Zabel, James Madison, MF