CNN's Roland Martin to speak at W&M Jan. 22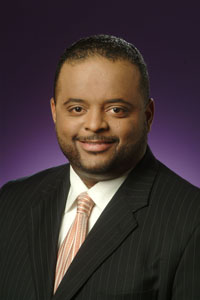 Roland S. Martin, a nationally syndicated columnist and analyst for CNN and TV One will serve as the keynote speaker for the Office of Multicultural Affairs' annual Dr. Martin Luther King, Jr. Commemoration Program. This year, the program comes only days after the historic inauguration of Barack Obama as the 44th president.
"Mr. Roland S. Martin, has certainly distinguished himself as a voice to be heard. On a daily basis, he uses his numerous platforms to 'speak truth to power,'" said Vernon Hurte, interim director of multicultural affairs. "Given the historic moment that we all witnessed on yesterday with the inauguration of President Obama, we certainly feel heightened excitement about tomorrow night's celebration."
The event will be held on Thursday, Jan. 22 at 7 p.m. in the Sadler Center's Commonwealth Auditorium. Martin will be signing his book "Listening to the Spirit Within," following the program. The Ebony Expressions Gospel Choir will also be performing at the event.
"Over 40 years ago, Dr. King called us all to a greater level of service and commitment in order that we may bring out the best in ourselves and our Nation," said Hurte. "It is my hope that this year's celebration marks a renewed sense of commitment to answering that great call."
The event is free and open to the general public.  For more information, please call (757) 221-2300.