The soggy morning weather could not dampen the spirits of the Class of 2009 as they entered William & Mary Hall on Sunday for the College's 2009 Commencement Ceremony. Inside, they were greeted by warm words of encouragement from world-renowned journalist Tom Brokaw, this year's Commencement speaker, who told graduates they were all on history's "scorecard" now.
Brokaw said they were leaving the College "in a season of uncertainty and anxiety," noting the economy, global climate changes and other challenges that face them.
"We may not have given you a perfect world, but we have given you dynamic opportunities for leaving a lasting legacy as a generation that was fearless and imaginative, tireless and selfless in pursuit of solutions to these monumental problems, a generation that emerged from this financial tsunami and rebuilt the financial landscape of their lives with an underpinning of sounds values and an eye for proportion, knowing in fact that on some occasions, less can be more," said Brokaw.
He added, "It will not be easy, but I promise you it will be rewarding in ways that a Wall Street bonus or a shot on 'American Idol' cannot compete. These, after all, are the tests that imprint a generation for the long curve of history's judgment."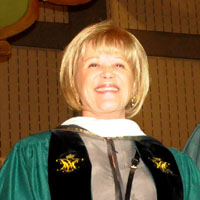 Brokaw received an honorary degree during the ceremony, along with theater and television actress Linda Lavin ('59) and philanthropist and real estate developer Sherman Cohen. Brokaw and Cohen received the honorary degree of doctor of humane letters, and Lavin received the honorary degree of doctor of arts.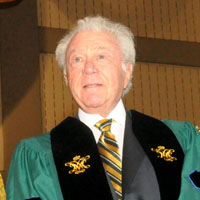 The honorary degrees were presented by William & Mary Chancellor Sandra Day O'Connor and Rector Michael K. Powell, who took part in his final Commencement as chair of the College's governing body. Powell will be stepping down this summer following two terms on the College's Board of Visitors. Also leaving the College this summer is Provost Geoff Feiss, who served as one of the Class of 2009's honorary marshals during the Commencement.
During her brief remarks, O'Connor encouraged the graduates to always remember their alma mater.
"You will leave here to start developing the rest of your lives and your futures," she said. "Do it well, but along the way, never forget why you came to William & Mary. It will always be part of your future."
Brokaw's address
Later, the graduates heard from Brokaw, currently a special correspondent for NBC and the longtime anchor of "NBC Nightly News." Brokaw has worked for NBC News since 1966 where he anchored the "Today" show from 1976 to 1981 and served as anchor and managing editor of the "Nightly News" for 21 years, before stepping down in 2004. After the sudden death of Tim Russert in 2008, he served as interim moderator of NBC's "Meet the Press" for six months.
Brokaw said that in preparation for his speech, he had asked Jon Stewart ('84), a College alumnus and the host of Comedy Central's "The Daily Show," what words he associated with William & Mary. Stewart gave William & Mary's commencement address in 2004.
"He thought for a moment and he said: 'Just four words. Paul's Delly cheese fries," said Brokaw, receiving laughter and cheers from the audience.
Brokaw encouraged the graduates to not let new technological tools replace their minds and hearts.
"It will do use little good, in other words, to wire the world, if we short-circuit out souls," he said.
The highly acclaimed journalist said that in all of his travels, he is always most impressed by "the idealistically young, the courageous and gifted members of your age group who are the foot soldiers in the long march to ease human suffering."
"Those kinds of commitments need not take up every day of your life, but they will enrich it if you make a conscientious effort to dedicate some of your time on this precious planet to helping your fellow men and women who are not as fortunate as you are," he said.
In closing, Brokaw offered a variation on his usual final words for similar occasions.
"It's a lot tougher to make a buck these days, but making a real difference has its own rich reward," he said. "So go forth, make some bucks but most of all make a difference, and you'll find how rewarding this life can be."
Awards and honors
Student speaker Justin Schoonmaker ('09), a philosophy major,  spoke about how he did not get accepted to William & Mary at first and how he learned through that experience that he could choose how to react to that "rejection."
"I wonder if the difference between those who accomplish great things in life and those who dwell in the shadows of mediocrity is their response to failure," he said. "Because we can choose to be thwarted. Or, we can choose to overcome. William & Mary -- one of the finest colleges in the nation -- has bred us to overcome."
During the ceremony, several students, faculty and staff members received awards. The Lord Botetourt Medal, presented for "the honor and encouragement of literary merit" was presented to Kelly Hallinger, a student who graduated with a near-perfect 3.99 GPA, departmental honors in Biology, membership in Phi Beta Kappa and several other awards.
The James Frederic Carr Memorial Cup, which is presented annually to the graduating senior "who best combines the qualities of character, scholarship and leadership," was presented to Bryan Jenkins Terrill, a double-major in international relations and Russian studies.
The Thatcher Prize for Excellence -- which is presented annually to a graduate or professional student of outstanding scholarship, service and character -- was given to Cullen Drescher, who received her J.D. from the William & Mary Law School.
The Graves Award for sustained excellence in teaching was presented to Thomas L. Heacox, an associate professor of English. This year's Algernon Sydney Sullivan awards, which are presented to two members of the graduating class and one person who has close ties to the College, were presented to Kevin Dua ('09), Adeela Tajdar ('09) and Sandra J. Wilms, who was noted for her tireless work and energy in the President's Office and as executive assistant to the Board of Visitors. This year's Duke Award winner, Bernard Bowman, was also recognized at the ceremony.
The College awarded approximately 1,400 undergraduate and 760 graduate degrees during the ceremony. Among the graduates was Dillon Niederhut, who earned a perfect 4.0 GPA. Also among the graduates were eight ROTC cadets, who were commissioned into the Army yesterday and one student who was commissioned into the Marine Corps. Also receiving her degree yesterday was Emily Johnson, the College's first graduate from its Coast Guard Auxiliary detachment, the first of its kind in the nation.
The undergraduate class set a new record with their donations to the class gift, with 76 percent of the class participating. Additionally, 83 percent of the law school's graduating class participated. Together, the Class of 2009 pledged about $200,000 to William & Mary.
Closing remarks
William & Mary President Taylor Reveley provided closing remarks at the ceremony, saying that the academic year "has been good to William & Mary despite the economic flapdoodle in which we, along with the rest of the galaxy, are all mired."
He cited the progress the College has made in its strategic planning, building program, sustainability efforts and selections to fill key leadership positions, including the vice president for student affairs, provost and dean of the law school.
Reveley praised the graduates for their academic excellence, athletic prowess, commitment to serve others and embracement of diversity.
"Your university - your beautiful, ancient, august College of William & Mary - is enormously proud of you and, and it expects a lot of you going forward because it know what you can do."
Reveley said that in turn, the graduates should expect a lot from their alma mater.
"You are entitled to the pleasure and satisfaction of seeing William & Mary move powerfully into the 21st century, your century," he said.
Citing John Steinbeck's acceptance of the Nobel Prize for Literature, Reveley encouraged the graduates to "not contain your pride in William & Mary."
"Graduates, roar like lions out of pride in your Tribe, the College of William & Mary, and out of pride in yourselves," he said. "Both the College and you, in my judgment, deserve sustained roaring."
To encourage that "roaring" and to mark the end of the ceremony, Reveley asked the graduates to participate in a tradition that he began last year as interim president of the College. The men shouted "William" three times and the women shouted "Mary" three times.
And then all those in attendance saluted the graduates with a final:
" '09! '09! '09!"