W&M celebrates future site of School of Education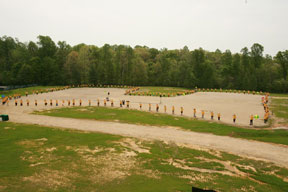 Students, faculty and staff at William and Mary's School of Education have reason to celebrate. And that's what they did Friday.
After years of being housed in snug quarters at Jones Hall - and spread in satellite offices and classrooms on and off campus - they are now preparing to move into a new, state-of-the-art facility. The College received word this week that the Virginia General Assembly approved a bond measure that provide William and Mary with $38 million to fully fund construction of the new education building.
The new building will open in 2010 but members of the William and Mary community gathered Friday at the site of the new facility - the former location of the Williamsburg Sentara Community Hospital off Monticello Avenue - to celebrate the news. Dean Virginia McLaughlin thanked hundreds in attendance, which included staff, faculty and students, as well as friends of the College such as state Sen. Thomas K. Norment, for their roles in making the future of the new School of Education building a reality.
"I am thrilled to welcome all of you to the future home of the School of Education -- this is ours," said McLaughlin, standing in front of the footprint of the future building. She noted the College purchased the property two years ago from Sentara in 2006 for $8.7 million, which represented a $7.4 million gift in its appraised value. Since that time, people have worked tirelessly to make the state funding a priority in Richmond.
"We now take position in a most tangible way," McLaughlin added. "Today we celebrate with new certainty that the future is real."
The new education building will serve roughly 90 faculty and staff, as well as 150 undergraduate and 650 graduate students. All programs, classrooms and offices will be under one roof in a new 112,000-square-foot facility. Outreach programs will also expand. Annually, the school produces more than 120 teachers, 20 school administrators, as well as reading specialists, school counselors and psychologists. The school also provides professional development to more than 20,000 educators across the Commonwealth and is a campus leader in attracting millions in grants each year.
"William and Mary's School of Education has been doing absolutely marvelous work for years and years," said Interim President W. Taylor Reveley III, noting that remarkable work has come while the school has been "stuffed" in just 26,000 square feet at Jones Hall. "Liberation from space constraints is on the way. This is indeed a glorious moment."
Officials concluded the ceremony "scratching a little dirt" as Reveley, McLaughlin, Sen. Norment, Provost P. Geoffrey Feiss and Vice President of Administration Anna Martin took hold of shovels and broke ground at the site. Those in attendance then spread across the footprint of the future building and posed for an aerial shot. McLaughlin said the school will host a more official "Dedication to Education" in September but they wanted to get people together this week to thank them for the recent good news.
"This has been one of the most positive and collaborative efforts I have ever been involved in," McLaughlin said.