Students serve as curators for printmaking exhibition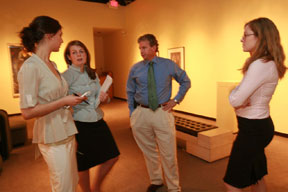 Creating a museum exhibit is more than nailing a few pictures to a wall and calling it a day. A curator must consider everything from what pieces to display and how they should be displayed to what colors the walls should be painted and how people will move around the gallery.
Three students from the College of William and Mary had to make all of those decisions and more this semester as they served as curators for a major exhibit at the Muscarelle Museum. The exhibit, Impression and Expressions: Masters of Modern American Printmaking, includes more than 30 prints and artists' books from renowned artists including Jasper Johns, Sol LeWitt and Helen Frankenthaler. The show opened at the College's museum in April and will run through July 27.
Junior Schuyler Lolly and seniors Mary Ramsey and Margaret Collerd started working on the exhibit at the end of last year when the museum's director, Aaron De Groft, asked them if they were interested in curating a show.
"When Aaron told us that he wanted us to curate an exhibit, I thought he meant that 'Well, we're going to be curating and you're going to kind of be helping,' but no, it was really like, 'Here's the list -- go!'" said Ramsey, an art history major.
DeGroft said that this was the first time in his memory that students had curated a major exhibition for the museum. He also said that allowing the museum to be a "laboratory for research, engagement and interpretation that is guided by the professional staff of the Museum" is an integral part of the Muscarelle's mission.
"This is no different than chemistry lab, or modern languages listening labs, where academic class work is reinforced and followed upon by practically applied laboratory where real time experiences are progressed," he said. "It is extremely important to the Museum to provide this atmosphere and valuable service."
To get them started on the project, the three students were given a list of the pieces in the private art collection of Laura Burrows. Because the list only included names and dates, the students had to do a great deal of research to determine what the pieces looked like, which ones they wanted, and how they'd put them all together in a cohesive show.
"All the prints are so different and the only things that really unify them are that they are modern, they are prints and they are American – at least, most of them," said Ramsey. "We really tried to emphasize that as the theme so people wouldn't look and say, 'What does this piece have to do with this piece?'"
While the students awaited the arrival of their selected pieces, they continued researching and discussing how the exhibit, which would take up three rooms in the museum's second level, would be set up. They decided on details from what piece would be the exhibit's focal point to what text would used in the three large explanatory panels.
Collerd said that writing the text for the exhibit was more difficult than she thought it would be.
"You want to be able to have anybody who comes in here – a professor, a student, a child, an older person, someone who has never been in a museum – to take something away from (the exhibit), and that was really hard," said the art history and economics major. "I think it's something that people take for granted. I certainly did."
As the students worked together on the exhibit, they discovered that each one of them brought something unique to the group: Collerd was the organizer, Ramsey was the researcher and scholar and Lolly was the aesthetics expert. Even when their plans for the project hit unexpected bumps – like when a room was painted the wrong shade of blue – the trio came together and supported each other to get the job done.
"I think we were pretty lucky because we all have similar aesthetics and we all happened to agree on the organization and everything, so it went pretty smoothly," said Lolly, an art history major and consulting minor.
About a month before the exhibit's opening day, the pieces arrived and the work of physically putting the exhibit together began. As the students unwrapped the pieces and saw them in person, they made decisions about where to place the art and how to display the artists' books, which came in a variety of forms, including one in a film canister and several in accordion-style or loose-leaf books.
Collerd said that the artists' books are "a really neat aspect of the show."
"I had never even heard of an artist's book before, so it was quite the learning experience for all of us," she said.
When the exhibit's opening day finally came, Lolly said that it felt almost surreal.
"We kept comparing it to Christmas, like the day we get to open up our presents and here it is," she said. "It is something that we created and designed and organized and here is the end product."
Ramsey said seeing the exhibit open was a unique experience because she was able to share it, unlike other school projects.
"When you finish a paper, of course you feel accomplished and everything but when you finish something like this, you can actually go up and be in it. It's really cool to have that as an end result so that not only you can appreciate it, but everyone else can appreciate it, too," she said.
The students gave a gallery talk about the exhibit after its opening, but, other than that, their work on the show is now mostly done. They said they're very grateful to the museum staff for all of their help, and they will be taking a lot away from the experience.
"Besides the actual subject, I think it was really interesting learning how to work in a group and organize a project this large," said Lolly. "To be able to be given this sort of project and be able to work first-hand with the artwork, that was the best part of the experience, I think. You definitely come away learning a lot about how to be the brains behind the project."
Collerd added: "We're students and we had a lot of support, but it seems like a professional-grade show. People compare it to (the main gallery), and you can't really tell a difference. That to me really meant a lot. This was such a learning experience for us, but it's still really high-quality."
Though she is not sure if museum work will be in her future after graduation next month, Ramsey said she is looking forward to having at least two more special visitors see her current exhibition.
"My parents are coming for graduation," said Ramsey. "I think they will come up here and be like, 'Oh my god, I didn't know you were doing something like this!'"
For more information on the Muscarelle Museum, visit www.wm.edu/muscarelle.