Staff serve it up for Meals on Wheels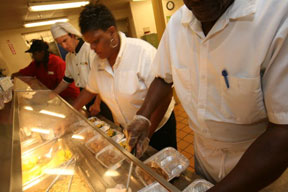 Staff members at William and Mary's Commons Dining Hall don't just dish up delicious feasts for students and special events. They also prepare meals for those in the community who -- without their help -- may not eat otherwise.

By preparing the food for the Williamsburg Area Meals on Wheels program, William and Mary staff members help feed up to 115 people in the Williamsburg, James City County and upper York County areas each week.

"We couldn't do it without the College," said Kim Hergenrother, program manager for the Williamsburg Area Meals on Wheels. "It's such a good partnership."

It's a partnership that started about three years ago when Sentara Williamsburg Community Hospital, which had previously prepared meals for the non-profit organization, moved from its Monticello Avenue location.

"We thought it would be a great opportunity for us to get involved in the community," said Phil Dibenedetto, director of the College's Dining Services.

Sharon Scott, who has worked at the College for nearly 30 years and is in charge of meals for the football team, was asked to help lead the program.

"Because she does such a great job, we thought we'd put her in this position," said Larry Smith, director of the Commons.
Each day, Scott works with Meals on Wheels to determine how many people on each of the 10 driving routes will need food. She also determines what foods will be prepared and sets up a four-week menu rotation.

Along with Lawrence Charity and James Ruyon, Scott prepares the meals every morning, Monday through Friday. The meals usually consist of an entrée, vegetables, salad, a roll, milk and dessert.

For recipients who may have a harder time with chewing or digesting food, the staff members create special meals that are chopped up and labeled as "dental soft."

"Obviously the folks that we cook for are elderly people, so we try really hard to give them a menu that they can digest," said Smith.

Once the meals are prepared, they are placed in hot and cold food bags according to route number and lined up by the Commons' loading-dock door. Volunteers arrive around 11 a.m. to pick up the food, and they return about an hour later, dropping off the empty bags.

Scott said she loves the interaction she has with the volunteers, who include William and Mary alums and even the mother-in-law to Tribe Football Coach Jimmye Laycock.

"I just enjoy my job and I enjoy the people coming up and talking, laughing," said Scott. "Sometimes they say, 'you made my day,' and then they make my day."

But Scott says what she really enjoys is knowing the difference she is making in the lives of the recipients.

"Thinking about the people that are home and don't have nobody, and they don't have a meal, and this is all they are getting in a day," she said. "It makes me feel good, to know that by doing this, they are going to get a meal."

Ruyon said he didn't understand the importance of the Meals on Wheels program until he went one day to help clean out the house of an elderly friend who had died. He saw 30 Meals on Wheels containers stacked in a corner and realized, "he wouldn't have gotten a meal without the program," Ruyon said.

Smith, whose mother is in her 80s, said that he is a big fan of what the Meals on Wheels program does and is proud to be a part of it.

"I think that throughout the country, it's one of the best programs," he said. "When I retire I think that's one of the things I'll do is drive Meals on Wheels because it's such a wonderful program."

Smith also said it's a wonderful opportunity for staff members to show a different side of themselves.

"I'm really happy that we as food service on the campus have an opportunity to do that because it really says that we can wear different hats, not just provide food for the students and catering and everything else, but also for the community," said Smith.

In Williamsburg, the need for Meals on Wheels is increasing as more people face economic hardships, said Hergenrother. Last year at this time, the Williamsburg program, which has been in place since 1974, was serving about 85 meals a day. Now, they are serving between 100 and 115 a day, an increase of about 35 percent. With growing demand for their services, the Williamsburg Area Meals on Wheels organizers said they are happy to have such a great working relationship with the College.


The William and Mary staff members run the Meals on Wheels food preparation process "like a well-oiled machine," said Hergenrother. The meals are almost always ready on time, and thus, usually still warm when they arrive at the community members' homes, which is important because many recipients do not either have the appliances to warm up the food or the physical ability to reheat the meals. And as for taste, the community members "rave about how good the food is," she said.

"We couldn't ask to work with better people," said Hergenrother. "They are diligent, courteous and they care about the people they serve. They are a great partner."