Music students learn from the masters
Students and faculty members in William and Mary's
Department of Music
have recently been treated to the time and talents of world-renowned violinist Charles Castleman.
Tomorrow, Dec. 2, Castleman will continue his work with William and Mary students as he presents a Strings and Chamber Music Master Class for advanced string players at 3 p.m. in Ewell Recital Hall.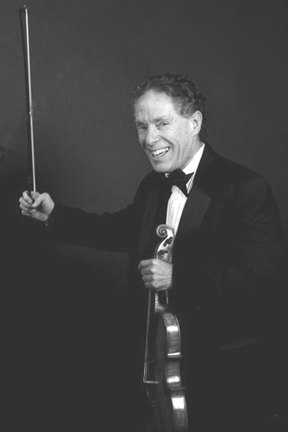 Master classes are important because they "give students a chance to perform, and all can learn from the guest artists who conduct the class," said Neal Cary, Lecturer of Cello and Director of Strings Ensemble.
"Guest artists often have entertaining stories to tell of their own personal experiences with the music, which can be a window into the life of a professional musician -- besides also just being fun to hear," he said. "The ability to get input from a variety of teachers offering different perspectives is an invaluable part of any musical education."
Along with Castleman, other music master classes held at the College this semester have included a piano master class with Mykola Suk and a vocal master class with Daniel Ferro, a world-renowned voice teacher and Professor Emeritus at the Juilliard School.
Ferro's last visit in 2006 made such an impression on students that they chose to bring him back this year solely through their own funds. The Delta Omicron Music Fraternity paid for most of the visit's cost, with a bit of contribution from the other two music fraternities, according to Mary Eason Fletcher, Instructor of Voice.
As with other master classes at the College, all of the participants in Ferro's October class were students, including Maurene Comey ('10), daughter of alumnus and last year's Charter Day speaker Jim Comey. Although the public may not participate in master classes, they are often invited to come and enjoy watching and listening at the free events.
During tomorrow's master class, advanced student string players will perform works by Beethoven, Dvorak, Tchaikowsky, Bruch, and Poulenc.
Castleman, who attended Curtis and Harvard, said he enjoys "teaching students who have both seriously devoted themselves to their instrument and retained their intellectual curiosity."
He said that he hopes student in his master class garner "different insights into their playing and more choices in problem-solving."
Along with giving a master class, Castleman performed a concert with William and Mary pianist Anna Kijanowska as part of the Ewell Concert Series in November. He will also perform with the William and Mary Symphony Orchestra on Wednesday, Dec. 3 at 8 p.m. in Phi Beta Kappa Hall. Tickets for that performance are $8 general admission or $2 with a student ID.