Jim Barbour: The mystery of the two-week retirement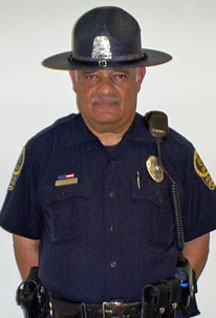 Officially, Jim Barbour is retired. So, how is that he's celebrating his 45th year with the College of William and Mary this month? No mystery here, say his colleagues.

"He likes it here," says his current supervisor, Lt. Ron LaCasse.

Initially, Barbour came to work for the College in 1973 after spending the first 10 years of his career with Eastern State Hospital. Then in 2000 after 27 years with the William and Mary Police Department he decided to retire -- well, at least from full-time duty. Two weeks later Barbour was back on campus working part-time as a security guard and, on some occasions, as an officer for special events.

"Whatever comes up that they need me, I'll work it," Barbour said.
During the school year, Barbour regularly works a 30 plus hour week – generally at night. For summer he takes a lighter schedule, but covers major events like the Lake Matoaka Summer Concert Series and fills in for vacationing officers.

His dedication to the College and to the students is an inspiration to those around him.
LaCasse, who has worked with Barbour for 17 years, said if he had to pick two words to describe Barbour they would be "integrity and credibility." "You don't meet too many people like that," he added.

You don't have to speak with many of Barbour's colleagues before you realize he's a man who wins friends and influences people.

Five years ago when the college recognized Barbour for 40 years of service, his then supervisor, Lt. (now Capt.) Ed Davis noted, "Jim has served this College for more years than many of us have been alive, and he has done so in a manner which can only be described as exemplary."

"My life has been blessed by the camaraderie and relationship that has been established with Jim. He's a real person," said LaCasse.

While his William and Mary schedule makes for a busy enough retirement, it's actually his second job. For the past 41 years, Barbour has also worked full-time for Colonial Williamsburg as a cook. He hangs his chef hat at Chowning's Tavern.

Even with the two jobs his life isn't all work.

A short conversation with Barbour reveals he's a diehard Chicago Cubs fans and he loves his family. Barbour and his wife live in Williamsburg; they have three children, two sons and a daughter, and three grandchildren.

"He's family oriented," said LaCasse.

And at work, Barbour is not showing any signs of slowing down.

"The man will not stop working. He never tires of working," LaCasse said about Barbour's work schedule and short retirement.

Added Barbour, "Right now I feel as good as I did when I first started doing it."

Case closed.