Gov. Kaine praises civic engagement at the College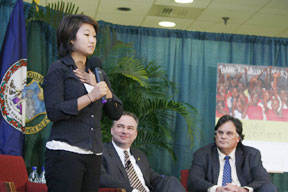 Governor Timothy M. Kaine praised the College's leadership in encouraging civic engagement in remarks at the University Center on Friday, Jan. 18. He advised students to always be humble and to make helping others a permanent habit. Speaking to a standing-room only crowd of more than 300 students, faculty, staff and members of the Board of Visitors, he said that Virginia must continue to break down barriers and invest more in education.
"We've got to break down barriers between us and the rest of the world," said Kaine, adding that one way to do that is by investing in more accessible, service-oriented education.
The governor pointed to selfishness as the "root of most prejudices and bigotries," noting that "education can further selfishness, or it can give us the ability to be able to serve others." But "we are at the front of the pack," he said, proving that education and engagement can work hand in hand. The assembled students, many of whom have participated in William and Mary's 19 international service programs, applauded the governor's affirmation of the College's successful efforts to help people in other countries.
President Gene Nichol, who joined the Student Organization for Medical Outreach and Sustainability (SOMOS) in the Dominican Republic over the winter break, encouraged students to continue to follow former President John F. Kennedy's charge to go "beyond these walls" and to continue to make William and Mary a leader in front-line public service and civic engagement.
Nichol raved in his introductory remarks about the College's "explosion" in the number of volunteer hours, international service programs, and students serving as Fulbright Scholars and in the Peace Corps. He said that William and Mary has the highest number per capita of Peace Corp volunteers among American research universities. Thanking Kaine for participating in the panel on public engagement, Nichol said that "the fact that you would come here to celebrate these efforts is a great tribute to the College and to you as a governor."
Kaine began his remarks by reminiscing about his college days as a volunteer in Honduras, crossing mountains to assist poor families in distant villages. He told a poignant story about a father who thanked Kaine and his traveling companion by giving them a bag of food—a rare commodity in an extremely impoverished region.
"You really have to be humble to take food from a family like that," Kaine recalled a Honduran friend and mentor told him. Kaine told the assembled students that "the value of some of these international experiences is that it will give you ways of looking at the world that will help you in your community for the rest of your life." The governor called on every student to be a "giver."
"I've never met a person who wasn't a giver who wasn't happy," said Kaine. "And I've never met anybody who wasn't a giver." Every person has something to give, he said, and recognizing that every person on this earth has something to give "is much more important than where the next meal is coming from."
The panel on public engagement also included several students who have made international outreach and civic involvement a central part of their lives at William and Mary. The students on the panel were just a handful of the thousands of students who last year contributed more than 323,000 service hours. Recent initiatives started by students at the College include Building Tomorrow, the Phoenix Project, and the Back Porch Energy Initiative. A 2006 survey showed that more than 90 percent of Tribe alumni continue to volunteer in their community after graduation.
One of those students is Cosmo Fujiyama ('07), an alumna who co-founded Student Helping Honduras, a non-governmental organization based in Honduras. She attributed her "sense of commitment" toward improving the lives of the malnourished and the uneducated to her first service trip in college. "What makes [an international service program] a solution is the person behind it, with the energy to do it," she said. She also emphasized that "the work is not done, not even close." With 19 international service trips each year, however, William and Mary is certainly leading the pack and setting records for student participation in service programs around the world.
Fujiyama, acting on behalf of the College, ensured that Kaine did not leave empty handed, giving him a tee shirt, coffee, coffer strainer, and an ornate box of letters from students who volunteered on a recent trip to Honduras.
"To me it is remarkable," she said, "the intimacy between the governor and our university. … I think [the governor's] intentions are firm."
Judd Kennedy ('08), a senior Middle Eastern studies major, said that he appreciated Kaine's willingness to share his personal experiences and to voice his support for service-learning partnerships.
"It's really compelling to see a public official visit William and Mary, talking to students about the need to break down barriers and become civically engaged," he said.
Kennedy also said that he appreciated being one of 10 students who had the opportunity to meet privately with Kaine before the panel. When it was Kennedy's turn to discuss his involvement in the College's diverse service options, he told the governor that he was proud of his involvement with the Sharpe Community Scholars program, an initiative that partners student volunteers with local non-profit and governmental agencies in the greater Williamsburg community.
Katie Ball ('09) said that she found the governor's commitment to public service to be "inspiring." "It was really encouraging and reassuring that [Kaine and Nichol] share the same sentiments in making it a priority of both the state and the college to maintain civic engagement…as an integral priority of every college," she said.