Friedrichs receives Virginia Outstanding Faculty Award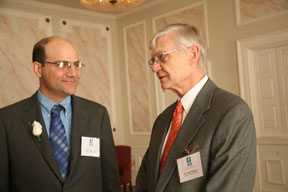 Carl Friedrichs, an oceanographer at the School of Marine Science/Virginia Institute of Marine Science at the College of William and Mary, received the Commonwealth's highest honor for professors in Richmond yesterday. William and Mary's interim president, W. Taylor Reveley III, joined Friedrichs as he received the award from Virginia Governor Timothy M. Kaine and the State Council of Higher Education for Virginia in a presentation at the Jefferson Hotel.

Friedrichs was one of the 12 statewide recipients of 2008 Outstanding Faculty Awards (OFA), sponsored by the State Council of Higher Education for Virginia and by the Dominion Foundation. The award recognizes the finest among Virginia's college faculty for their demonstrated excellence in teaching, research and public service. The General Assembly and governor created the award in 1986.

"These faculty members were selected by their peers as elite educators who have helped make the Commonwealth's higher education system one of the finest in the nation," said Kaine. "Their commitment to excellence both in and out of the classroom can be seen not only in their diverse research endeavors, but also in their public volunteerism and advocacy of service learning opportunities. They truly represent the best Virginia has to offer its students and citizens."

Since the first presentation in 1987, members of the William and Mary faculty have received the award 31 times, more often than professors of any other Virginia college or university, public and private. The College's leadership position on the list of OFA winners is especially significant considering the nomination guidelines, which base the number of nominees for the honor on the total number of faculty at each institution. William and Mary, for instance, can submit a total of eight nominees each year, while the University of Virginia, Virginia Tech, VCU and George Mason each can submit 10.

The fourth OFA award winner from the faculty of the School of Marine Science/Virginia Institute of Marine Science (SMS/VIMS) since 1987, Friedrichs is a professor of marine science. He joined VIMS as a visiting assistant professor in 1993, the same year he received his Ph.D. in oceanography from a joint program conducted by Massachusetts Institute of Technology with Woods Hole Oceanographic Institution. Just as Friedrichs started at VIMS, the instructor of Introduction to Physical Oceanography took a sudden medical leave and Friedrichs was drafted to teach the class, which is required for all SMS students.

It was an auspicious beginning to his teaching career, with student evaluations larded with superlatives such as "Friedrichs is great. Make him permanent faculty," and "For a first class at VIMS, Carl was super." Friedrichs began an equally notable research effort; to date he is author or co-author on a total of 64 peer-reviewed publications. He also has been the principal investigator on 21 federally funded research grants totaling $5.8 million.

"I fondly recall the camaraderie that I shared in college and graduate school with my advisor and fellow students," Friedrichs said. "Today, I feel similar kinship in the field or in my lab when an undergraduate advisee and I leap across a tidal creek in a muddy marsh or when my graduate students and I celebrate getting a real-time wave sensor back on line after it has mysteriously crashed. Basically, I strive to give my students opportunities for experiences similar to the best I had that instilled within me such devotion to teaching, mentorship and discovery."

Friedrichs's research covers a wide range of topics in geological oceanography, physical oceanography and marine science and touches on many issues of environmental concern. Some of his most notable work has involved marsh morphodynamics—the study of how coastal wetlands respond to pressures of sea level rise and coastal development. He also has made important contributions to the study of continental shelf sediment transport, the investigation of how material eroded from the shore finds its way into the ocean, ultimately forming the deposits that create sedimentary rocks and trap fossil fuels.

VIMS Dean and Director John Wells says, "Carl is truly deserving of the SCHEV award. He's an outstanding scientist, an excellent teacher, and an advisor who cares deeply about the success and welfare of his students. His research benefits the Commonwealth, and he has an enviable record of producing students who go on to make a difference in academia, industry, and government."