Four get Alumni Medallion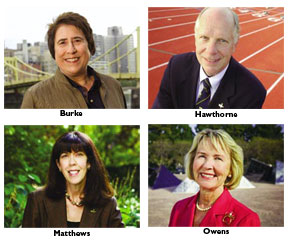 In 1934, the William and Mary Alumni Association first recognized graduates of the College with the Alumni Medallion for their professional accomplishments, leadership, dedication to the community, and commitment to their alma mater. Nearly 74 years later, the Association will present four alumni with the medallion, the highest award the Alumni Association can bestow on a graduate. The Association will celebrate the recipients in a Feb. 8, 2007 ceremony at the University Center, to which the public is invited.
The honorees for 2008 are Linda Beerbower Burke '70, Randall S. Hawthorne '67, J.D. '70, M.L.T. '71, Suzann Wilson Matthews '71 and Patrisia Bayliss Owens '62.
Facing life's challenges is nothing new to Linda Beerbower Burke '70. Not only did she have to surmount the changing tide of corporate America, becoming one of the first women ever to hold an executive position at Alcoa, but she also faced the challenge of being hearing impaired. After William and Mary, Burke attended the University of Pittsburgh's law school, receiving her juris doctor degree in 1973. She spent the next 27 years with Alcoa, climbing the corporate ladder, and later was recruited for one of the top legal jobs in the Internal Revenue Service. Her job with the IRS made it possible for her to do what she does now — teach corporate tax at Pitt's law school and work as a consultant on tax cases involving complex issues across the country. One of the issues that Burke has become increasingly passionate about is embracing racial and cultural diversity — so much so that she endowed diversity programming during the College's last campaign. "We cannot be so proud of our own heritage," says Burke, "that we cannot appreciate others'."
Randall S. Hawthorne '67, J.D. '70, M.L.T. '71 formed an interest in both running and accounting from an early age. From Arlington, Va., he came to the College and after graduation and a short stint in the U.S. Army, Hawthorne joined a private accounting practice in Williamsburg, now Lent & Hawthorne, P.C. Throughout his career, he has stayed very active with the William and Mary track team on many levels. For 23 years, starting as a college freshman in 1963, he ran with the men's cross country team. At the age of 40 he couldn't keep up with the men, so from 1986 to 2002 he ran with the women's cross country team. From fundraising in order to keep the program afloat to housing student-athletes, Hawthorne has helped sustain a program that some say wouldn't be around without him. In 1989, Hawthorne seriously started raising funds for W&M track. "In the past 20 years I have raised about $4 million," he says. The track coaches don't have time to fundraise, according to Hawthorne, because they are in season 10 months out of the year. He's been told, "Any coach [at William and Mary] would tell you they'd love to have a Randy Hawthorne raising money for their program."
Suzann Wilson Matthews '71 grew up in West Virginia and took a variety of liberal arts courses at the College that interested her. She decided to jump into an accounting course her senior year. After graduation, she moved to Northern Virginia and worked on Capitol Hill for former Congressman Michael McCormack of Washington state. During the 1980s, Matthews owned part of several companies dealing in commodities. After selling that business in 1993, she devoted herself to volunteer work and has spent a great deal of time working on behalf of the College, both as a member of the Board of Visitors (BOV) since 2002 and on numerous other committees over the years. She has been an advocate for students, alumni and faculty. Examples of this include her funding of summer research grants, as well as the Phoenix Project, Young Guarde weekend and numerous other programs and initiatives. When expressing her admiration for William and Mary, Matthews likes to quote one of the students she met along the way, who said: "When you love it, it loves you back. That's the feeling you want to instill in people."
Patrisia Bayliss Owens '62 majored in art history while at the College and has taken that interest with her throughout life, spending many hours volunteering. Until four years ago, she led tours of the National Gallery in Washington, D.C. for school children, but now she focuses on public and special appointment tours and, of course, tours for her grandchildren's classes. Her interest in art goes beyond the role of educator; she is also a collector. She and her husband have loaned 10 works to the Muscarelle Museum of Art from 19th- and early 20th-century American artists such as Thomas Cole, John Sloan and Robert Henri. Owens was instrumental in helping save the Muscarelle from being closed in 1997. She served on the first board in 2000, and continues to serve on the board today. Owens also helped to improve the docent program at the Muscarelle and attends many of the special events there. She has also led tours in Olde Towne Alexandria and Virginia plantations. "One of the things that makes life worth living is the arts," says Owens. "When people look at works of art they forget about the outside world and rise above the chaos."
For a complete listing of all of the Medallion winners' professional, civic and College involvement, please visit the Alumni Magazine Winter 2007/2008 issue at www.wmalumni.com.
The honorees will process during Charter Day exercises on Feb. 9 in front of classmates, family, faculty and the College community and be recognized for their professional accomplishments, leadership, dedication to the community, and commitment to their alma mater.
Founded in 1842, the William and Mary Alumni Association is a separately incorporated nonprofit organization that encourages alumni of the College of William and Mary to remain active partners in the life of the university. The Alumni Association's programs nurture friendships, inspire pride and build an appreciation among alumni for William and Mary's long tradition of achievement. For more information about the Alumni Association, visit www.wmalumni.com.