Diversity at William and Mary examined, reaffirmed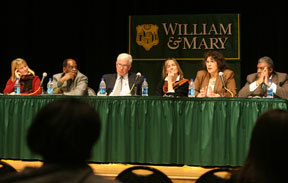 The College of William and Mary's commitment to diversity was examined and reaffirmed, especially by two Board of Visitors' members, during a panel discussion in the University Center's Commonwealth Auditorium Thursday night.
"You can bet your bottom dollar that (diversity) is here to stay," said panelist and BOV member John Charles Thomas.
About 150 students, faculty, staff and community members attended the discussion, which was entitled "A 315 Year Endeavor: The State of Diversity at the College of William and Mary." It was hosted by the William and Mary NAACP, the University Center Activities Board, the Black Lawyer Association and the Student Assembly. Along with Thomas and BOV member Kathy Hornsby, other panelists included Cassandra Newby-Alexander, a College alumna and Norfolk State University history professor; Terry Meyers, an English professor and interim chair of the College's philosophy department; Tamara Sonn, a religious studies professor and the Kenan Professor of Humanities; and Hulon Willis, Jr., a William and Mary alumnus and son of the College's first African-American student.
The College's newly appointed interim president W. Taylor Reveley III also reaffirmed W&M's commitment to diversity during his introductory remarks.
"Engaging our differences with sympathetic understanding is hard work. We don't shrink from this hard work at William and Mary." he said. "We know it will require an awareness and acknowledgement of our racial past, both slavery and segregation, and an attempt to reconcile our racial past with our aspirations for the future. We know it will require us to become a community that is genuinely open to people of all sorts, including people who differ from us in ways we may find hard to understand and welcome. It will require us to learn to talk to one another, and tonight we will talk with one another."
During the discussion, the panelists fielded questions both from moderator Ashley Shuler ('08) and the audience on a variety of topics, all exploring the College's past, present and future regarding a broad range of diversity issues.
Meyers, whose paper "A First Look at the Worst" explores the College's early connections to slavery, explained some of the findings from his research. He said that period in the College's history is something "we should at least look back at and perhaps know more about."
Willis, Jr., spoke of the College's more recent past and the experiences that he and his late father went through during their time at William and Mary. Willis, Sr., was the first African-American student at the College. Willis, Jr., was one of only 49 African-American students at William and Mary when he attended in the mid-to-late 1970s.
Despite the sometimes painful experiences he and his father went through, Willis, Jr. said that he has seen a lot of progress made at William and Mary -- so much so that he recommended the College to his daughter. He said that if the state of diversity continues to progress, it would do so on campuses like William and Mary's.
"The one thing that has to be fundamental for all of us to understand about diversity is that it's going to be learned and transferred in institutions of higher learning," Willis, Jr., said.
Looking at the state of diversity in the country today, Newby-Alexander said that it boils down to whether people are willing to share perceived ownership.
"I think it is really that issue that is at the heart of where we are in society today," she said. "Who has ownership of the United States of America? And when those who feel that they're the ones who have ownership are unwilling to allow others to feel that they have ownership, then you have a clash."
The panelists explained that diversity is about much more than race. Sonn noted the importance of religious and other types of diversity in a liberal arts education. She said that as students prepare to become leaders, they had to understand that the right to make choices is meaningless if the people making the choices don't know what all the options are.
"If you only know one religion, then you don't know anything about religion. You can do what you're told, but you don't understand the phenomena involved in religion, certainly not the political, social and economical roles throughout history, their roles in shaping why we think what we think the way we think," she said. "In order to dismantle the slavery of ignorance, we have to engage in a liberal arts education. The more diversity we have in the classroom – that is teachers and students – the more liberal our education can be."
Hornsby reaffirmed the Board of Visitors' commitment to continuing and enhancing diversity programs on the College's campus, saying she is proud of how far the College has come.
"The board is going to have to do a lot to make sure we show our commitment to diversity, first amendment rights and to all the wonderful things that go on here, and we are intending to do that," she said. "We are all committed to this."
Meyers said that much of the work is in the hands of the BOV, and he called for them to take action. Several panelists said that students could work to make the campus more diverse, as well.
Newby-Alexander said that, historically, changes in diversity have come through students, who started in the 1960s and slowed in the 1980s.
"Your job is to be an advocate for change," she said. "Your job is to be on that cutting edge of transforming the world into something else."
Thomas echoed Newby-Alexander's sentiment, telling the students it was now largely up to them.
"It's about you. When the other students come here, that's where the rubber meets the road. We don't know what happens in the dorms. We don't know what happens in the University Center. You guys know what happens here," he said. "So if in your hearts you want your school to be diverse and open, you've got to be diverse and open when you greet new students coming here. I think that's what's happening here, but a lot rests in your hands."