Faculty, students bring 'Yankees' to life
In the musical "Damn Yankees," whatever Lola wants, Lola gets. But if Lola stepped off of stage one day and decided to direct the show, she'd probably have to learn a little about collaboration.
That's something that the three faculty members who are bringing the musical to life at William and Mary know very well. Though they each specialize in different areas acting, music and dance -- they have shared ideas, laughs and long nights together to achieve one creative vision and teach their students something along the way.
"One of the things that is so wonderful about a musical and so unique and so challenging is that there are so many layers," said Associate Professor Denise Damon Wade. "It's not just the script. It's not just music. It's everything."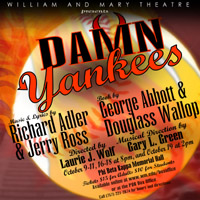 Wade is serving as the choreographer for the musical, which opens on Thursday, Oct. 9. Associate Professor Laurie Wolf is the show's director, and Gary Green is its musical director. The show will be performed in Phi Beta Kappa Hall at 8 p.m. on Oct. 9, 10, 11, 16, 17 and 18 and at 2 p.m. on Oct. 19.
"Damn Yankees" is a modern take on the Faust legend and is set in Washington D.C. during the 1950s. In the comedic musical, the character of Joe Boyd sells his soul to the devil to become power-hitter Joe Hardy on the Washington Senators baseball team. The popular musical was first performed on Broadway in 1955 and has since been produced around the world, even making it onto the big screen as a movie.
However, Green said that they did not want William and Mary Theatre's version of the show to be "a carbon copy of any other production."
"We want to find our show," he said.
To find that, the professors said that they did a lot of brainstorming and a lot of just trying things out.
"We'll figure out an answer to a question just in rehearsal," said Green. "We might even just be goofing around, but we find something that works."
And as the trio races the clock to opening night, the three are conscious that they production is more than just a show. It's an educational opportunity for all of the students involved.
Senior Carrie Adams, a government major who is appearing in the show and serves as assistant box office manager, said that juggling her academic work and the demands of being in the musical can be complicated at times.
"But that's the glory of the liberal arts education," she said. "You find ways to weave them together."
Green said he hopes that all of the students involved in the musical "see the discipline it takes for this be a creative art form."
"I think in some part of their being they are getting that this is an art," said Wolf. "That they are doing a craft, and there is a process there."
And though putting together the musical can sometimes be a hectic process, Adams said she is certain that the results will speak for themselves.
"Have you ever seen 'Iron Chef?'" she said, referring to the TV cooking show where contestants must make a meal from randomly selected ingredients.
"It's a team effort that looks like pure, utter ridiculous chaos for 59 minutes, and at the hour, it's beautiful and it always turns out great,  she said. "That's what this show is."
Tickets for "Damn Yankees" are $15 for the public and $10 for students. They can be purchased by calling the PBK Box Office at (757) 221-2674 or online at http://wmboxoffice.tix.com/Schedule.asp?OrganizationNumber=1690.
Members of the cast created a YouTube video to promote the performance. It can be viewed at http://www.youtube.com/watch?v=x_p41BIejns.