Chan receives Monroe Prize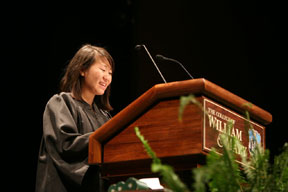 Wendy Chan, a native of Old Bridge, N.J., was recently recognized by the College of William and Mary for her service work both locally and abroad in Honduras and Guatemala.
Chan, a senior and an accounting major, received the fourth annual James Monroe Prize for Civic Engagement at the College's annual Charter Day ceremony Feb. 9. Charter Day celebrates the day on which the College received its royal charter from the British monarchy in 1693.

Established in 2005, the Monroe Prize is awarded to a student who has demonstrated sustained leadership of an unusual quality—leadership combined with initiative, character and an unfailing commitment to leveraging the assets of the College community to address the needs of our society.
Chan has been heavily involved in service at the College since her sophomore year when she became a Tribe Ambassador and joined the service fraternity Alpha Phi Omega. She went on her first international service trip with Students Helping Honduras in 2006, an experience that she said "changed my life." She has been back to Honduras two times since, and is now the president of the William and Mary chapter of Students Helping Honduras. Chan has also participated in a Habitat for Humanity trip to Guatemala and will co-lead a trip back there during spring break this year.

Chan said that, for her, the draw of civic engagement is the relationships that she makes, and she often gets more back than what she gives. In her acceptance speech, she urged her fellow students to "go on a service trip, find a local project, but most of all, get to know the people you are serving," she said. "Because the project may last a day, a week or a month, but the relationships we form last a lifetime."

Chan said she was honored to receive the Monroe Prize. She credits her fellow students, the College's administrators and the staff in the Office of Student Volunteer Services for helping her pursue her passion for service.

"Without them, I would not be able to do the things I do," she said. "Their support and encouragement keep me going."