Ceremony honors veterans and the fallen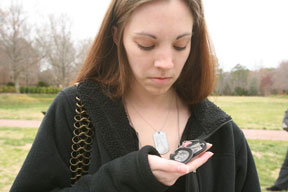 Law student Jane Honeycutt remembers her fiancé as the "best person ever." A person who felt compelled to do more after talking with a homeless Vietnam veteran. A person who thought it wasn't fair that he got to live in America and enjoy all of its freedoms if he didn't take on its responsibilities as well. A person who joined the Marine Corps to fulfill that calling and died fighting in Iraq.
Jeff Webb was among those remembered as a group of students, faculty and staff gathered at the College of William and Mary Tuesday afternoon to honor those who have served in the Armed Forces -- both those who have returned from conflicts and others, like Webb, who gave everything.
"Now he's probably really mad at me for calling him a hero," Honeycutt told the gathering. "But that's more evidence that he is a hero."
The second annual gathering, titled "A Moment of Remembrance," was sponsored by the Veterans Society of William and Mary, a group of students and faculty that does community service, offers support to one another and works to increase the understanding of military members among the campus population.
Interim College President W. Taylor Reveley III attended the event and thanked the veterans in attendance – both students and faculty -- for their service.
"The willingness of some to engage in genuinely sacrificial service is truly crucial to our survival as a nation and its continued success," he said. "We are enormously grateful for those of you who have served and are serving. And we will not forget those who did not come back."
John Miller, an adjunct instructor of English and Coast Guard reservist, opened the event by recalling the College's long history of military service, both by its students, faculty and staff and, sometimes, by its very buildings. He said the group was gathered to remember those "whose stories are not usually heard, whose names are not on these buildings, but whose contributions are nonetheless remarkable."
During the event, two students spoke about loved ones they had lost in the Iraq War. After Honeycutt, junior Kristina Surface spoke about her high-school friend Daniel Morris.
"He had a big heart, big pride and a love for everything," she said.
Though Morris has decided to join the Marine Corps when he was a senior in high school, many of his friends and teachers were skeptical because of his short stature. However, he spent a year building up his body mass because "he was so dedicated to what he wanted to do," said Surface.
When Surface heard that Morris had been killed, she said she refused to believe it. He was only 19. He was the friend who had made a pact with her that they would get married if they weren't married to other people by the time they were 30.
Surface said that she knows her friend didn't join for the money or to get help in going to College. She said he did it because by his going, he said "someone's daddy can come home."
For more information on the Veterans Society of William and Mary, visit http://www.vetsoc.org/.