Campus, community donate hair for a cause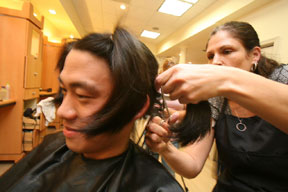 With a snip here and a snip there, a few ponytails eventually became a multi-colored mountain of hair as children, women and even a few men filed into a Williamsburg salon yesterday to give up their long locks for the sake of women who have lost their own.
The members of the campus and community were participating in a hair-donation event organized by students at the College of William and Mary to benefit Pantene's Beautiful Lengths Program. The national program provides wigs to women who have lost their hair due to cancer.
Yesterday's event took place at European Beauty Concepts in Williamsburg. The salon's professional stylists gave free haircuts to all of those who donated. By the end of the day, the students had collected more than 30 ponytails, each eight inches or more in length. Including yesterday's donations, the students have thus far collected about 50 ponytails or 55.625 feet of hair overall.
Emily Burns ('11), Maura Checchio ('10), Katie McCarney ('10) and Alyssa Gaeto ('10) organized the event as part of their community activism project for a women's studies class. The students have also raised about $600 so far to benefit cancer research. Last year, other students completed a similar project, raising about $200 for cancer research and collecting about 30 ponytails.
For more information about the project, visit www.beautifullengths.wikispaces.com. For more information on Pantene's Beautiful Lengths program, visit http://www.pantene.com/en-US/beautiful-lengths-cause/Pages/default.aspx.